Luxury Strollers are a must-have for everyone. Owning one or two of the best luxury stroller is definitely not overrated. Believe me, you'll be glad you made the purchase.
We wouldn't even judge you if you decide to get one for your little angel. After all, who can say 'no' to some stunning luxury strollers that are genuinely outstanding in terms of quality, comfort, and elegance.
Following our thorough research, here you have it, the top 5 luxury strollers that would make heads turn wherever you go.
We trust that these chic strollers would be a wonderful addition to your collection of baby gear.
If you're interested in learning which stroller we think is the finest overall, we think the UPPABaby Vista V2 Stroller is outstanding. It has a stylish, high-end design as well as a ton of convenient features that parents will find appealing, and we'll go into more detail about it below.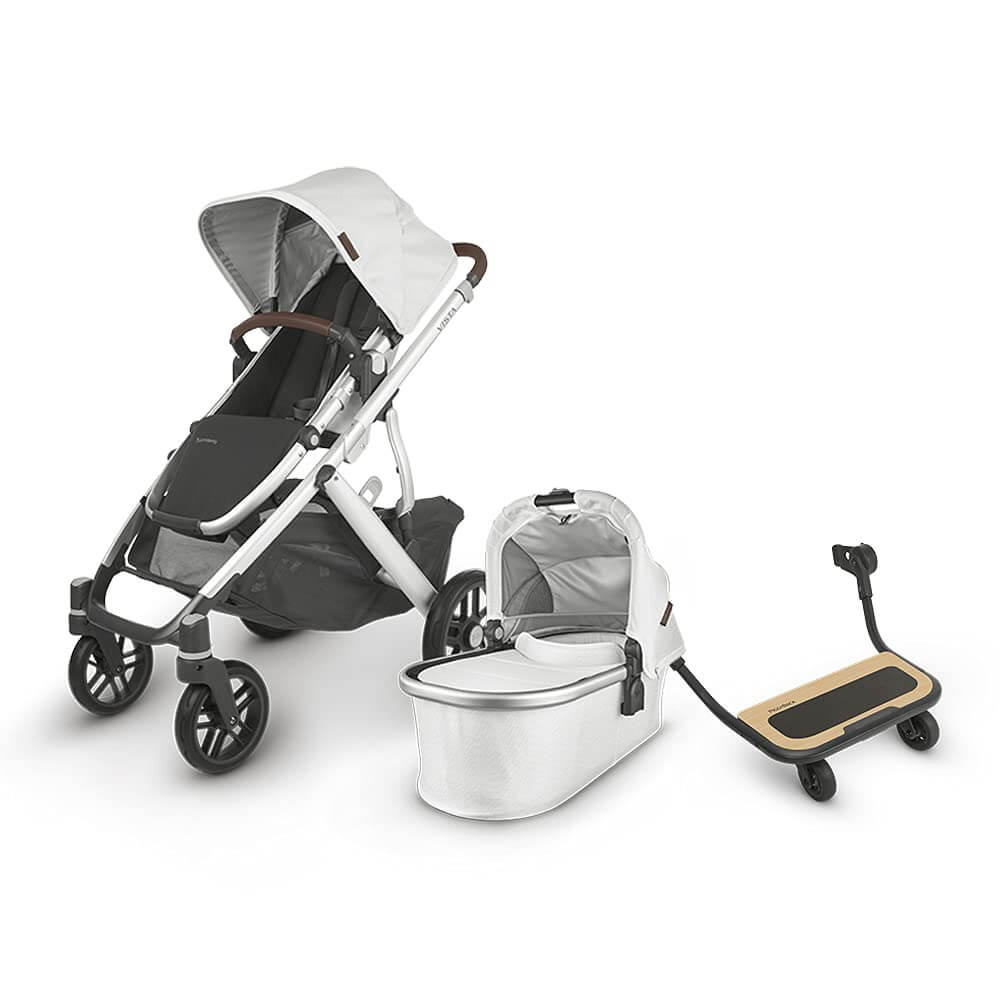 If you've made enough inquiries on the best luxury strollers, you would be aware of the ubiquity of UPPABaby Vista V2. Among the greatest luxury strollers, we absolutely adore this one. Let us explain.
For a single child, a pair of kids, or even three kids, the UPPABaby Vista V2 Stroller is luxurious. By including a second child seat, it may convert into a dual stroller. You may easily attach a baby bassinet or infant car seat before your child is old enough to utilize the child seat.
Your kids can now experience a smoother trip with the travel system, irrespective of their age. Its bump-free operation is provided by the its suspension system and cosy tires.
Also, the journey in the child seat is wonderful. Since they are wider and higher than others, they can accommodate young kids and can even be used as a solo stroller!
As well, this stroller provides the finest protection via its expandable canopies on each reclined seat, each of which also includes a zip-out sunshade. You don't have to worry about your little one getting exposed to the effects of harmful weather conditions.
Likewise, its no-rethread harness is simple to modify as your child develops.
In addition, you can add a second baby seat or even a rocker seat to this stroller if your family expands to accommodate more of your kids.
Pros
Extends to become a tri or dual stroller
Includes a front entrance to a huge storage container
There is a zip-out visor on canopies.
Child seat tilst either forward or backward.
Features a bassinet
Cons
Best Value: Baby Jogger Summit X3 Jogging Stroller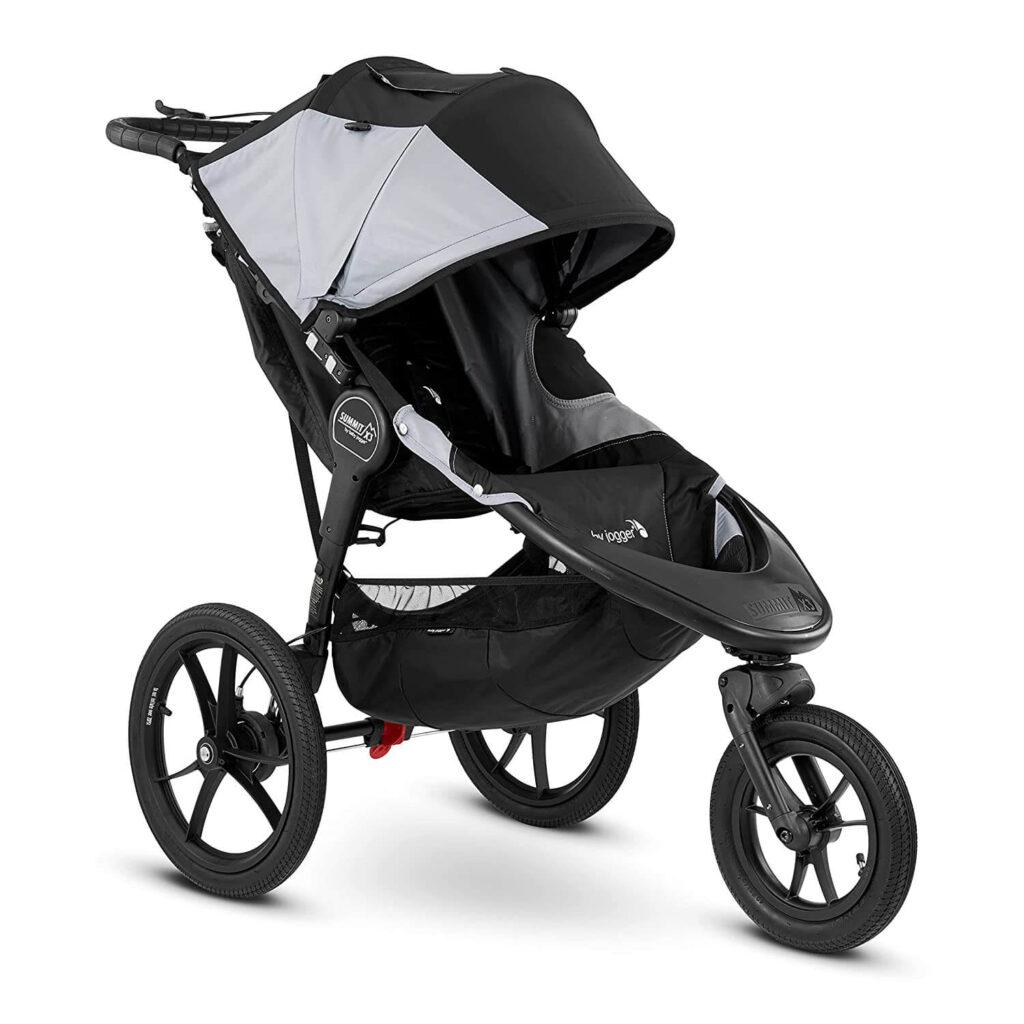 Who says you can't have a great sporting activities while caring for your infant? Or, who says you can't wholly care for your two kids while exercising outdoor?
The Baby Jogger Summit X3 Double Jogging Stroller is yet another best luxury stroller that also doubles as a stroller for snow. It can help you in no small measure perform sporting activities and even do more!
This stroller is genuinely durable and easily manoeuvred thanks to its small all-corners construction.
The wide bicycle tires of this luxury stroller is made of rubber and can withstand any terrain while maintaining an incredibly nice ride.
Depending on whether or not you want to jog or walk, the front tire may either be locked or whirled.
Also, a sun canopy with vented sides and a peek-a-boo glass is included with each child seat to protect your child's sensitive skin from the sunny elements.
Inclusively, for the Baby Jogger Summit X3, there are several different storage options. The smaller seat back pouches or the lower basket are both options.
You may transform a triple jogging stroller into the ideal equipment for an energetic outing by adding a glider board for a third youngster. Whenever you're ready, this stroller is ready to go!
Pros
Close to flat seat recline
Detachable weather shield
Custom brakes
Wheels that rotate and latch onto the handlebars
Supports up to 75 pounds.
Cons
The absence of a car seat adaptor
The kid's seat pouch is too short.
Best Choice: Nuna Mixx Stroller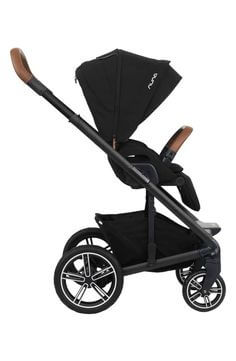 Still searching for the best luxury stroller, then the Nuna Mixx varies significantly from the other strollers on this list and places a distinct impact. The entirety of the Mixx is quick and simple convenience from a highly mobile and capable luxury stroller.
The Mixx's four wheels and extremely short wheelbase make it exceedingly simple to move, drive, and operate.
Also, the toddler seat boasts exceptional comfort, lay-flat recline, a no-rethread harness height, and the ability to be converted from forward to rear-facing.
One fascinating feature of the toddler seat is that, in hotter weather, the top layer of its cloth can be snapped off to reveal a seat made of highly breathable mesh.
During our evaluation, we particularly admired the Mixx's detachable bumper bar, spacious two-section storage basket, front and rear suspension system, and extremely agile chassis.
Numerous clever and useful features are made possible by this pricy baby stroller's design. The stroller is initially simple to fold so it becomes very small.
What's more, you can get your child buckled in for a trip thanks to the no-rethread harness system and self-guiding magnetic buckle.
As your baby develops, the Nuna stroller's various settings can be customized to meet your preferences.
Any Pipa series car seat can be used, or you can attach a bassinet for babies. The seat can be turned around, and doing so has no bearing on how the seat folds.
Ultimately, we are really impressed with the Mixx, especially if agility and simplicity are important to you.
Unfortunately, it can't be converted into a dual stroller, and its sleek brushed aluminium frame won't make eyes pop, but for approximately $650, you can obtain a stroller with fantastic features that is of extremely good quality, highly agile, and simple to use.
Pros
Valuables can be kept in a zip-up pocket.
A sophisticated style with a black frame and polished wheels
Weather-proof chair
Great wheels and a robust design
Flexible leg support
Cons
The footrest is not very long.
On a rocky terrain, it becomes very loud.
Best Alternative Choice: Bugaboo Lynx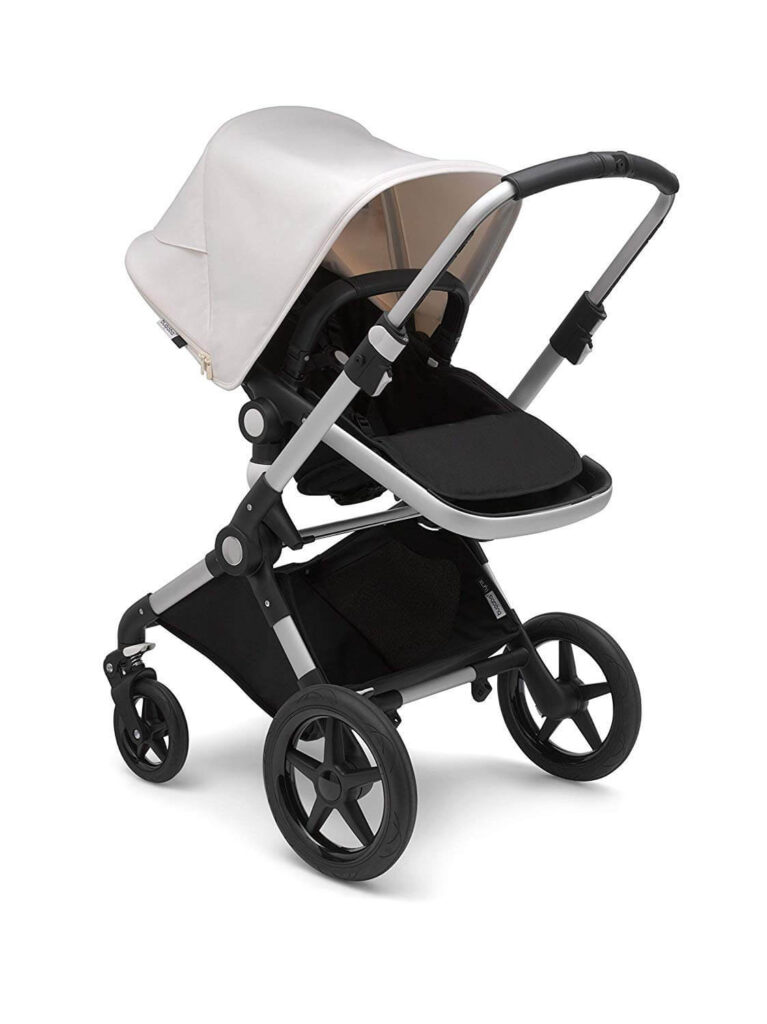 Emerging as the best alternative choice in a luxury stroller is the Bugaboo Lynx.
Expect a lightweight stroller that provides a small fold and all the features of a Bugaboo stroller from the Lynx. It is a light, opulent buggy that is tough and capable of moving on various surfaces.
According to First Aid experts, constant exposure to the sun's UV rays can damage your baby's skin within a short period of time. That's why this stroller comes with a mesh peek-a-boo window and a 50+ UPF canopy to keep your baby constantly protected.
Besides, babies are also more susceptible to heat, thus increasing temperatures can make them seriously unwell and has been linked to Sudden Infant Death Syndrome (SIDS).
In addition, the Lynx only weights 20.7 lbs, a difference of 7 lbs. than a full-sized stroller like the UPPAbaby Vista, but lighter. When you finally get to touch it, you'll notice the difference. Lynx is a must-consider option for parents seeking for a small, lightweight full-sized stroller.
For the metropolis and the countryside, this high-end stroller works great. If necessary, the brake, suspension, and wheels will all work together to provide assistance on more difficult terrain. Your infant will enjoy the smooth ride thanks to the enhanced suspension.
Also, the roomy and deep-spaced bassinet from Lynx is designed for parents who need a stroller for larger infants. Because your infant won't feel crowded, you can take a huge grin while riding your infant.
In addition, the roomy and larger basket of the Bugaboo Lynx can store up to 20 lbs, so you won't have to be concerned about packing a backpack or another bag. There is absolutely nothing you need to leave behind!
As a mouth-watering feature, Lynx can be folded up very fast and easily in a few easy steps, and it may be stored while still standing. Making the adjustment won't be difficult. Thankfully, the seat can still be folded!
Pros
Portable
Features large capacity for various terrains
Carrycot that is roomy
Substantial basket capacity
Has a seat that folds with it
Con
Baby cannot see through the carrycot bar
Second-Best Alternantive Option: Silver Cross Kessington Pram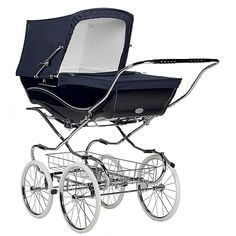 If you're like us and you love some classic vintage taste of luxury, then this best luxury stroller is for you!
The Kensington Pram—a showcase of British craftsmanship—was a Silver Cross for royalty. With a removable body, a fold-down chassis, and a foot brake, this handmade vintage and classic stroller meets the needs of luxury and comfort.
Also, with a history dating back to over 100 years ago, this magnificent stroller is constructed using only the best components and finishing.
This ultra-premium pram's every element exudes a mark of quality and elegance that will transform you and your future generations on every level.
The redesigned Silver Cross Kensington is a display of genuine English artistry, made by the best. This practical, luxurious stroller is the epitome of adaptability. Each component—the frame, handlebars, wheels, fabrics—exudes elegance to the fullest.
Likewise, a certificate of authenticity is included with the hand-crafted Kensington Pram by Silver Cross. Fabrics that were hand-stitched, hand-painted details, the hood, the hand-stitched apron, and chrome chassis are just a few examples of the craftsmanship on display.
This chic stroller offers a tranquil and enjoyable trip for babies without skimping on comfort. Your infant will delight at the splendor of this pram thanks to the fully cushioned mattress, polyester-lined protective apron, 4-point spring suspension, chrome wheel, and the large tire.
Also an architectural miracle is the general build quality. This opulent stroller's intricate components are all strong and customized over chrome-plated frames and wheels to increase durability. This opulence at its pinnacle endures for generations.
Pros
Regal design
Hand made
A smooth ride
Sturdy
Cons
Unsuitable for young children
Sturdy
Now that you're aware of the luxury strollers that'll totally transform your appearance while serving you their functionalities, you might as well want to know what exactly makes them special and keeps them on the the high sides of market prices.
To this end, we have compiled a list of what makes these prams high-end:
Best Luxury Strollers: Are They A Worthy Investment?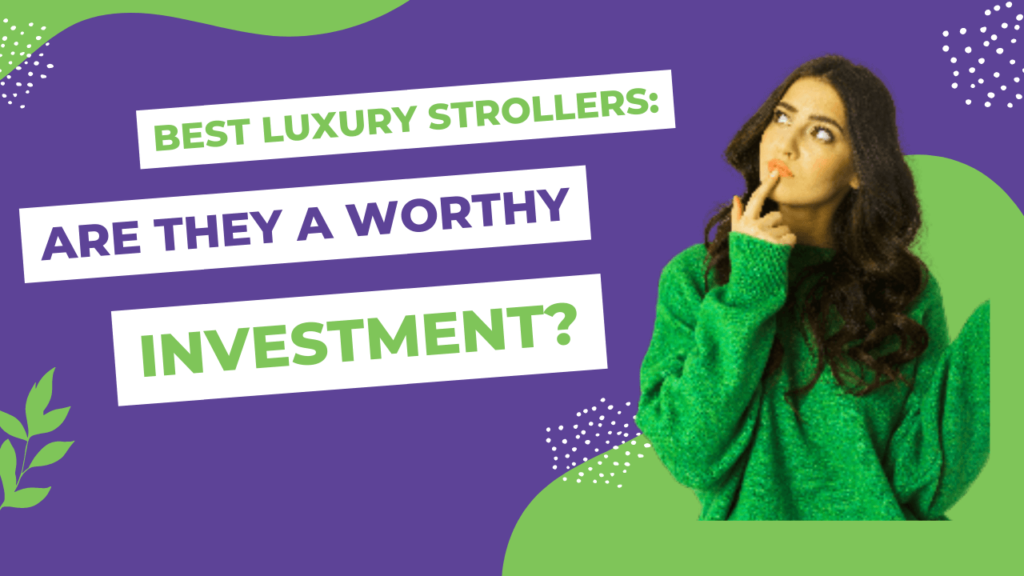 Be it stylish and practical, this luxury strollers have both. In some circumstances, luxury goods do have an impact on elevating self-esteem and fostering a sense of belonging, in addition to the mental advantage of instant satisfaction.
You don't have to give up your sense of style just because you're a new parent or parent-to-be. Luxury strollers are ideal for people who value finer things in life and desire the same for their children.
There are numerous things that can be done to assist new parents in getting through the time and a luxury stroller is one of them.
Same way we thought to let you why luxury prams are worthy investments.
Accordingly, high-end strollers may have a variety of features unavailable on more affordable models. By doing this, the encounter will likely be more enjoyable for both you and your kid. They may provide convenience or comfort while maintaining the fashionable aesthetic of the stroller.
Also, with a luxury stroller, you have a ton of alternatives, one of which is doubling as a stroller for snow. In other words, taking your child out for fun shouldn't be hindered by either snow or rain. Even though expensive stroller brands can be pricey, if they make traveling with your child less of a burden, they are worth the expenditure.
Typically, they are highly durable due to their excellent manufacturing processes. As a result, the ideal luxury stroller ought to serve you well for many years and even through many kids.
Best Luxury Stroller: Our Final Note
Is the price of a fancy stroller justified? Yes, provided you're willing to spend between $500 and $1,000 for a stroller.
Why not treat yourself to a little spend to look beautiful after washing spit up off your shirt and figuring out how to change a diaper in that awful Starbucks bathroom? You need some nice things to improve your life, especially when you're feeling a little gloomy.
In addition to costing a little more than the strollers on our list of the best strollers or the best lightweight strollers, these models are also more luxurious, fashionable, versatile, and comfortable. They also tend to have a smoother ride and more comfort features than the cheaper models.
On this note, we highly recommend the UPPABaby Vista V2 Stroller. It provides the finest protection via its expandable canopies on each reclined seat, each of which also includes a zip-out sunshade. This helps to protect your baby from terrible weather conditions.