If you're a nursing mama, you'd know nothing beats having your baby tightly held onto your chest via a nursing carrier while you handle other daily activities.
Having a nursing carrier or in other words, baby-wearing tends to not only improve the bonding time with your baby but also, helps you save time as a busy mom. And in the actual sense, which mom isn't busy?
We understand that nursing a baby can be time-demanding and as well, body-stressing. Thus, we have made a compilation of the best nursing carriers for every nursing mom!
Our overall best nursing carrier for any nursing mum is the Solly Baby Wrap.
BEST OVERALL: Solly Baby Wrap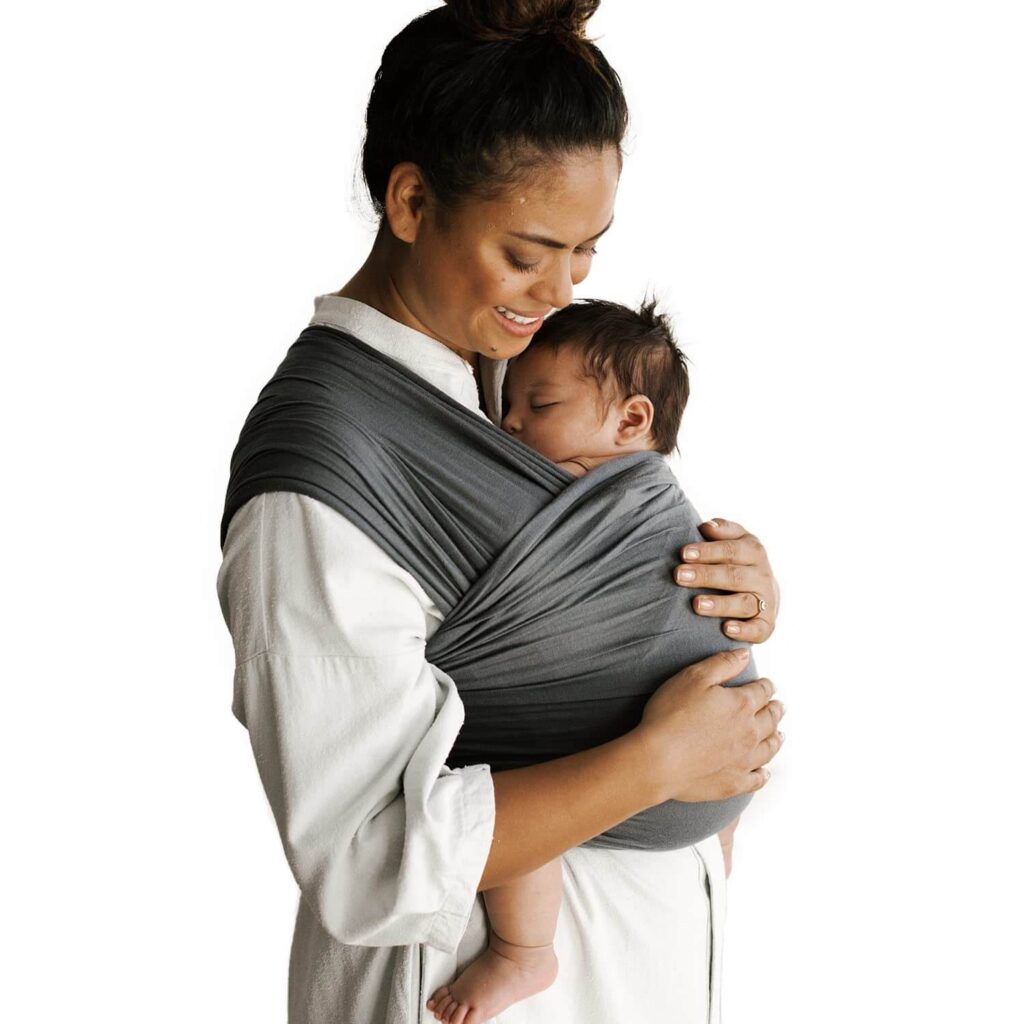 The Solly Baby Wrap is not only famous for its extremely silky nature but as well for its ability to properly distribute weight evenly across the body. This nursing carrier has been our #1 go-to nursing carrier for every nursing mom who's passionate about having some hands-free moments.
Comfortability
We've recommended the Solly Baby Wrap to some nursing mamas who took the time to ask us what nursing carriers they should be investing in. Once they got the Solly Baby Wrap, they declared that for one, the Solly Baby Wrap is twice as comfortable as it looks. And secondly, the Solly Baby Wrap is completely breathable and totally does the baby fitting excellently.
Great Weight Containment For Babies
Perhaps you're wondering what the weight recommendations might be for this nursing carrier, well, we heard you!
The Solly Baby Baby Wrap has a minimum weight recommendation of 8 pounds which means that this nursing carrier will effortlessly let you carry babies weighing between 8 to 25 lbs. This nursing carrier is a great fit for newborns.
Unique Modern Colours
Again, we found that the Solly Baby Wrap comes in a different array of 20 modern colors, therefore, giving you the liberty to choose a nursing carrier that suits your personality and matches your preferences.
Adjustable Straps
Since the major idea behind a nursing carrier is to help a nursing mom move hands-free, the Solly Baby Wrap boasts an adjustable strap that fits any body size – petite and plus size – without incurring any pressure on the shoulders or back. This nursing carrier can not only be worn by a nursing mom alone but also can be worn by both men and women.
Distributes Weight Evenly
If you've read to this point, you'd recollect we mentioned earlier that the Solly Baby Wrap distributes weight evenly. This nursing carrier helps to reduce the aches that come with carrying your baby onto your chest.
Inasmuch as a nursing carrier is perfect for bonding with your baby, the Solly Baby Wrap goes the extra mile to keep your back and shoulder protected from strains and pains.
100% Certified Lenzing Modal
You might want to know what Lenzing Modal is. Lenzing modal is a rich silky-soft and sustainable flame-resistant fiber made from the pulps of Austrian beechwood trees. Lenzing is a company that uses wood pulps and woods free of pesticides to produce 100% fire-resistant cellulosic fibers.
The final product is uniquely soft, lightweight, and durable enough to be machine-washed and tumbled dry without wearing down.
Also, because it is flame-resistant – which gives this nursing carrier a big boost – its material makes it come close to one of the clean nursing carriers you might want to own, considering how close baby breaths in a nursing carrier are!
All of these highlighted features make the Solly Baby Wrap stand out as the overall best nursing carrier on our list.
BEST VALUE: Boba Baby Wrap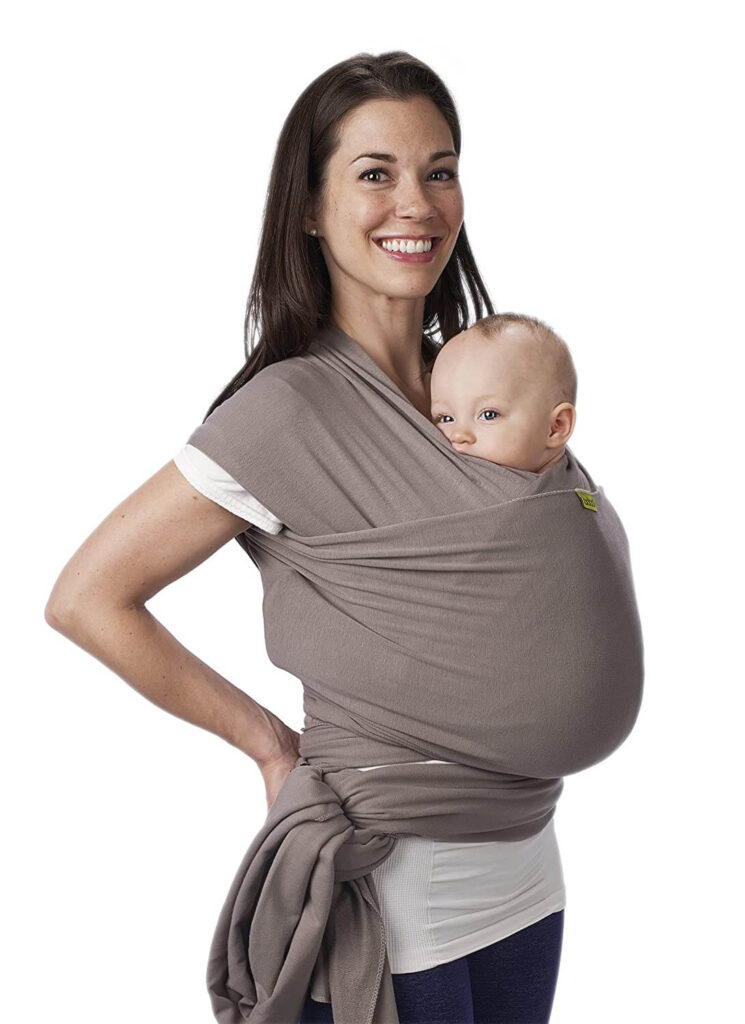 If you're like us and you cherish simplicity and ease, the Boba Baby Wrap is a perfect choice! Asides from this nursing carrier offering you the best value for your money, it also sees to it that your baby is comfortably positioned to your chest without hassles.
Easy To Tie And Breastfeeding
The Boba Baby Wrap successfully passes as a shield to invent privacy while breastfeeding your baby, especially in public spaces. Getting used to breastfeeding your baby in a nursing carrier can be a bit uncomfortable at the start and that is okay.
However, the Boba Baby Wrap finds a solution to that already. With five wraps of fabric, all you need to do is easily tie it around your body and breastfeed your baby in it. You don't even have to take your baby out of the wrap!
Keeps Mom And Baby Together
With its 95% cotton, the elasticity of this nursing carrier helps the wrap retain its shape and not loosen or sag as you readjust to nurse your baby whenever you're on the move!
Just like any other yoga pants, the Boba Baby Wrap stretches and keeps you and your baby together.
Despite being 95% cotton and 5% spandex for stretch and breathability, the French terry fabric of the Boba Baby Wrap does feel a touch stiff when compared to Solly baby's wrap.
Supports Up To 35 lbs
The Boba Baby Wrap is a straightforward and convenient nursing carrier that adapts over the course of the first year of nursing your baby. Up to 35 pounds of new-borns can fit within, thus, making it cover a lasting value for your money.
BUDGET OPTION: KeaBabies Wrap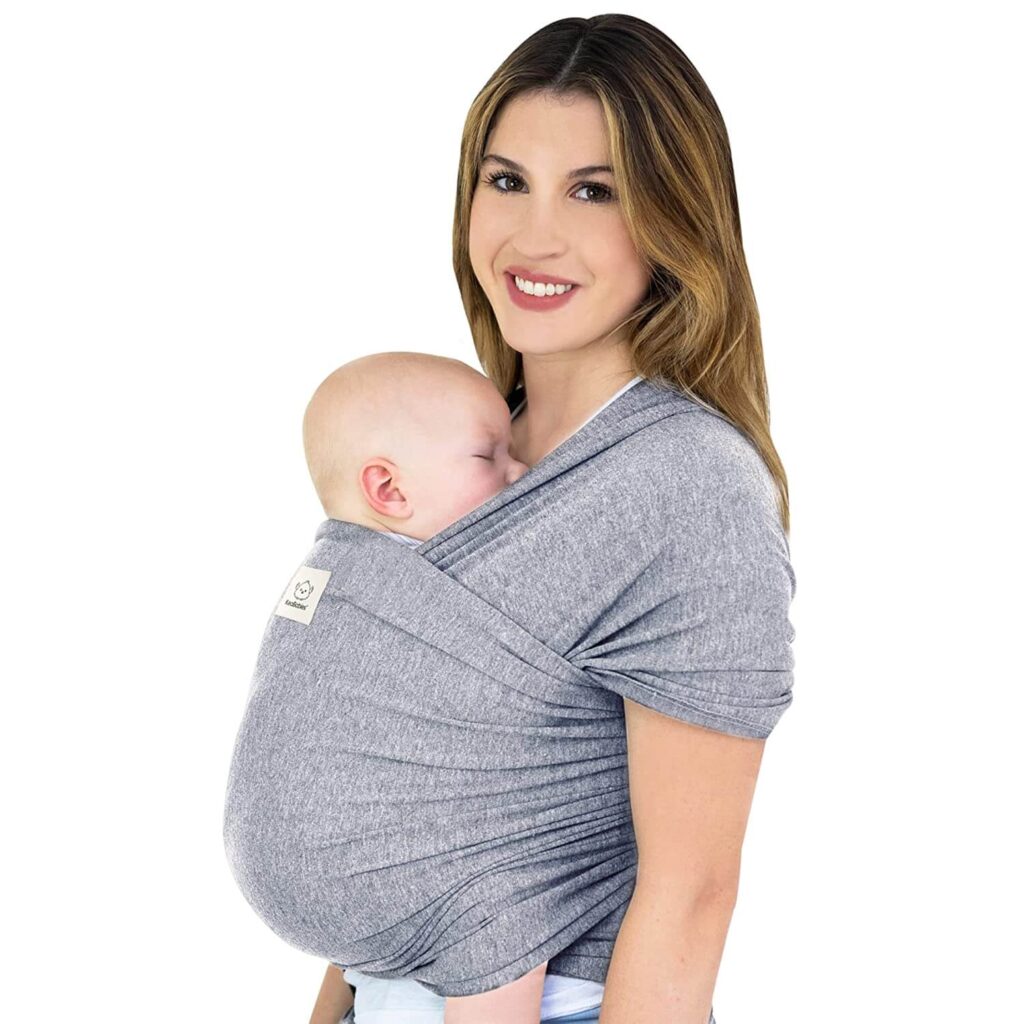 Whether you're looking for a nursing carrier that'd suit your baby's weight or a nursing carrier that'd match your budget, yet, is highly efficient, the KeaBabies Wrap is for you.
Evenly Distributes Baby's Weight
Similar to the Solly Baby Wrap, the KeaBabies Wrap does an excellent job of blending your baby's weight with your body. It as well supports babies with up to 35 lbs and it ergonomically redistributes your baby's weight so you carry your baby without having to experience shoulder and back pain.
Suitable For Everyone To Wear
Because every parent is different, The KeaBabies Wrap fits people of all sizes. It can also be wrapped in various ways to transform into a pregnancy support band, a postpartum recovery wrap, or even a nursing cover.
You'll be impressed to know that this nursing carrier comes with an instructional video that teaches you how to wrap and maintain it.
Hands-Free Bonding
Every nursing mom loves to go about their daily activities while still caring for their babies and you can't be an exception.
With the KeaBabies Wrap, you can enjoy bonding with your little one while going about your daily activities.
Great Fabric Material
KeaBabies Baby Wrap Carrier keeps your baby tight and secured since it is made with soft, elastic, and breathable unique cotton fabric. It is simple to put on and fits so snugly that you do not need to constantly adjust it. Excellent for parents who are new to babywearing.
Although budget-friendly, the KeaBabies Baby Wrap is a little thicker when compared to other nursing carriers.
Best Carrier For Extended Breastfeeding +Babywearing: Solly Baby Loop Carrier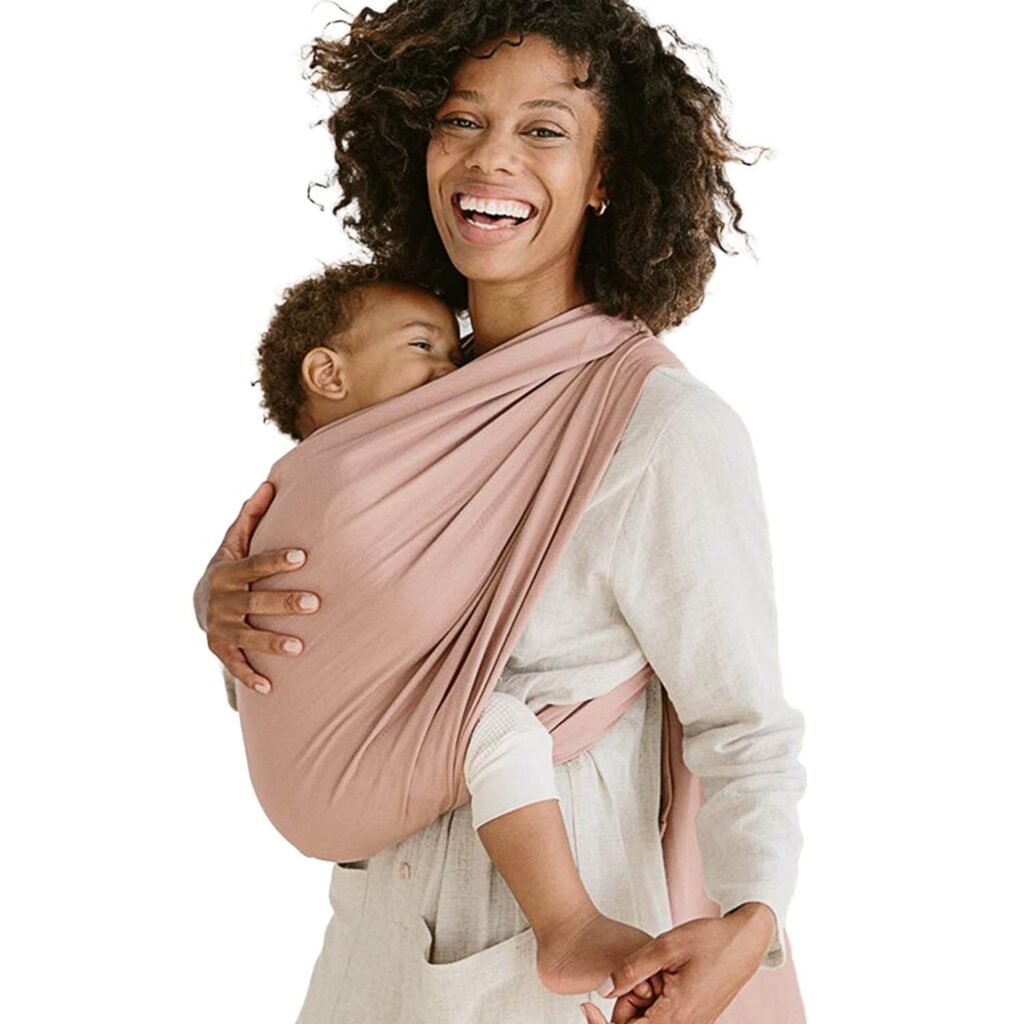 The Solly Baby loop carrier is THE BEST for prolonged usage! It combines the comfort of a sling with the hidden loop function and the support of a wrap.
Supports Up To 45 lbs
It is planned for babies 15 to 45 lbs. It's right now advertised in four excellent, breathable colors. It comes in two sizes that fit from XS to 3XL and is hip-healthy certified. It's made from 100% GOTS-certified natural cotton and is machine launderable.
Exceptional Cotton
With that said, the Solly Baby Loop Carrier cotton unquestionably feels more distinctive than the super delicate Lenzing modal Solly employs on their wraps.
So it feels a bit stiffer and thicker. In any case, with each wash, it gets gentler and milder. It moreover gives a ton of back support, while still remaining breathable.
Easiest Learning Curve: Baby K'Tan Original Baby Carrier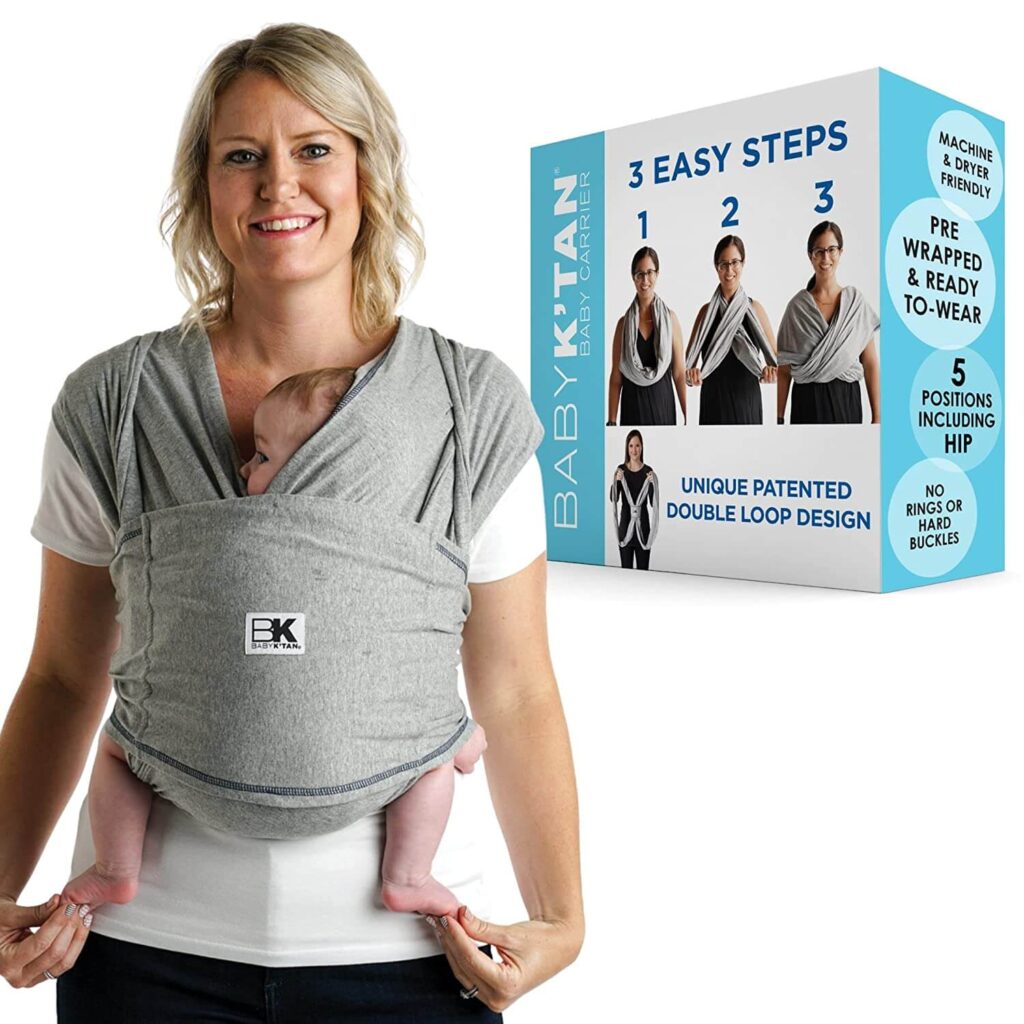 You will enjoy the Baby K'Tan Original Baby Carrier if the thought of wrapping and tying yourself up before including your baby in the nursing carrier sounds intimidating.
The only thing you need to do is slip into it because of its pre-wrapped construction. As well as being suitable for babies, it supports up to 35 pounds.
Comes In Different Sizes
You'll also like that there are a variety of sizes available from XXS to XL, which corresponds to dress sizes from 0 to 24.
Versatility
This carrier may be adjusted into five configurations, one of which is a sling wrap for babies and preemies. The Baby K'Tan Original Wrap earned the 2019 Baby & Children's Product News, the 2019 Experienced Mommy Award, the Verywell Family 2019 Best Baby Wraps and Slings, the 2020 Gugu Guru Village Love Pick, and the 2019 Babylist Best awards.
Comes In A Variety Of Colours
The Baby K'tan offers a variety of fabrics to pick from as well as a large selection of colors in each style, therefore we award it a win!
The "Active Oasis" baby carrier is a silky soft, moisture-wicking nylon, spandex, and poly blend that offers 90% UVA protection in addition to being available in the Original and Breeze carriers, which are both made of 100% cotton.
100% Organic Cotton
Finally, they have a 100% Organic cotton variant that is GOTS certified. Additionally, all of their bags are machine washable!
How To Choose The Best Nursing Carriers For Nursing Mamas
The variety of baby carriers available can be overwhelming, yet they are mothers' best friends in so many ways! As well, the benefits of a nursing carrier are countless as they promote better sleep, foster skin-to-skin relationships between parents and children, and give moms a brief period of hands-free time to complete tasks around the house or outside.
Finding your ideal fit for nursing takes a few extra considerations and tests if you intend to use a nursing carrier.
Remember that many mothers choose to use multiple carriers.
STYLE
There are several distinct types of baby carriers for babywearing. Depending on what suits you, each has advantages and disadvantages. When looking for a carrier, the following are the most typical designs you'll encounter:
Structured Carrier: When you think about babywearing, this is generally what comes to mind. They come with a variety of buckles and straps, often with an adjustable cushioned hip belt and shoulder straps that provide good back and shoulder support. With many positions, these often work for infants from the newborn stage to toddlerhood. However, they are typically a bit heavier and warmer than some other options.
Wrap Carrier: A baby wrap is a long, universally fitting piece of fabric that you tie around your torso. Although how to knot a baby wrap can be frightening at first, once you get the hang of it, it's really simple and does offer shoulder and cross-back support, as well as a little low-back support depending on where you tie it off. They are perfect for keeping your baby and you comfortable in hot or cold settings because they are available in a wide range of fabrics. Having said that, there is a subset of pre-made wrap carriers that are NOT one size fits all and instead are based on your t-shirt size.
COMFORT
Consider trying on several various looks because this will be particular to you. While some individuals appreciate the extra padding that structured carriers provide, others favor the blanket-like comfort of a baby wrap.
The baby carrier's material and environment are other important factors to take into account. Pick clothing that is appropriate for the types of weather you typically experience and is breathable.
SUPPORT
If you have a history of back problems, an accommodating low back strap might be beneficial
Additionally, you'll want adequate shoulder support, in my view, because of technology and how everyone is constantly focusing on their phones rather than your new kid. On the back, between the shoulder blades, look for a baby carrier with an X-shaped cross-section of the shoulder straps. You can also like shoulder straps that span horizontally over the shoulder rather than straight up like a tank top.
PRIVACY
Despite the fact that most jurisdictions have laws protecting breastfeeding moms' rights in public, you might want a little bit of privacy while feeding your child. So, if the possibility of exposure makes you uncomfortable, search for baby carriers that provide additional coverage. Remember, though, that if you'd rather, you may always combine your preferred baby carrier with a breastfeeding cover.
COST
The cost of a baby carrier can range from $40 to $200. Keep this in mind when creating your baby registry or future budget since many women choose to own more than one baby carrier.
Which Nursing Carrier Is Best For Nursing Moms?
Nursing carriers are absolutely necessary while you get used to becoming a mother. They can even offer you a little time back if you learn how to nurse in a nursing carrier because they can calm cranky new-borns and lengthen naps.
A good nursing carrier provides you access to nursing your baby while still giving you a little bit of privacy, especially if you want to breastfeed your baby while you're on the run.
The Solly Baby Wrap is, in our opinion, the best baby carrier wrap. It is incredibly light and breathable to keep your baby cool and comfortable while lowering the risk of overheating. Additionally, it is elastic but not overly so, allowing the infant to move about and get support when nursing.
The Boba Baby Wrap, the Baby K'Tan Original Baby Carrier, or the Solly Baby Loop Carrier are our favorite structured baby carriers for breastfeeding. The KeaBabies carriers won't last as long as the latter two, but they are far less bulky and much simpler to put on and start using if you're new to baby-wearing!