If you're already faced with situations like having your baby's accessories take up too much space in your room, it may be high time you consider getting the Best Mini crib in the Market.
The ideal option for small rooms is a mini crib. It has a smaller form that occupies significantly less room while giving your child plenty of space.
If you're searching for the greatest folding and safe mini crib, a portable mini crib, a convertible mini crib, or a cheap mini crib since you're on a limited budget, we've got you covered!
In this piece, we'll share with you some of our favourite small cribs and as well, offer some advice on how to choose the best one for your child.
Best Overall Mini Crib: Babyletto Origami Mini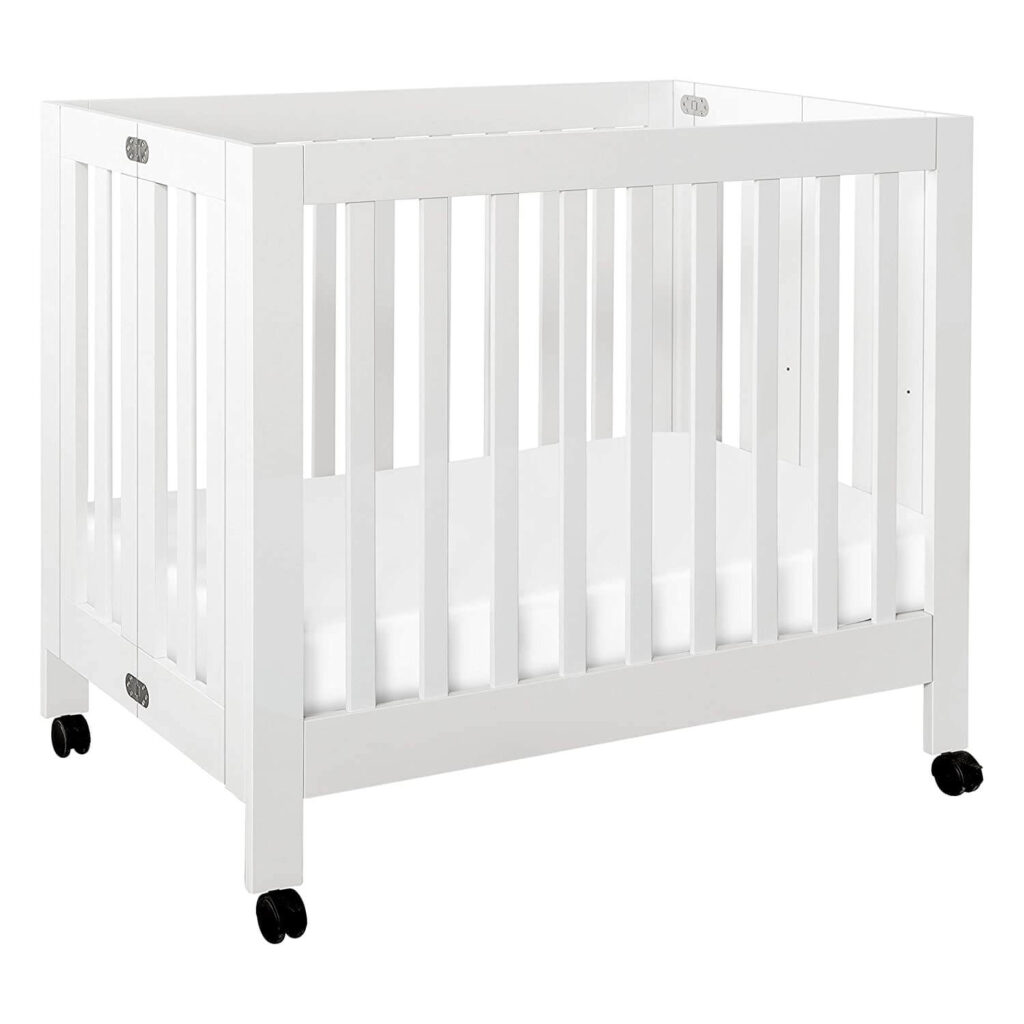 If you live in a small flat and struggle to squeeze out some good space for other items in your bedroom or nursery, the ideal option for you is the Babyletto Origami Mini Crib.
Why Choose This Crib?
Asides from the fact that the producers of this mini crib have proven that it was built of responsibly harvested solid New Zealand pine, it conveniently houses your baby without occupying huge space in your room.
The wooden slats of this miniature crib are traditional, but it also comes in cheerful hues like pastel turquoise, pink, and dove grey.
Along with the classic white colour, it's also accessible in darker hues like black and navy blue.
Also, the caster wheels on this Best mini crib make it easier to transfer it from room to room. As well, there are two options for mattress height that lets you fit this crib into your desired position.
Likewise, it is easy to store or carry this crib in the trunk of your vehicle because it can be folded down. On this list, not many cribs are foldable.
Despite the fact that this crib is quite little, your baby will have plenty of room to sleep in it.
Additionally, Origami Mini is distinguished by its small weight and straightforward, clean-lined style. It complements any nursery design beautifully and won't clash with the parents' bedroom decor.
Stand Out Feature
There are two mattress positions and the mattress height can be adjusted. When it comes to new-borns and younger infants, the higher setting is ideal.
But once your baby can sit and stand, then it's time for you to the lower mattress position once the baby can sit and stand.
The good news is that the crib has four caster wheels, making it quite simple to transport it from one room to another. You don't need to carry or lift it.
You won't have to worry that your baby's small crib will roll away when he or she moves and wiggles because each wheel locks separately. This is no doubt one of the Best Mini Cribs you'd ever find.
Dimensions
39.2×25.7×36 inches
Pro
Fits in confined spaces
Modern appearance
Foldable and easy to store
Convenient wheels
Con
Light mattress
Finding the right sheet might be difficult
Best Foldable And Convertible: DaVinci Kalani 4-in-1 Convert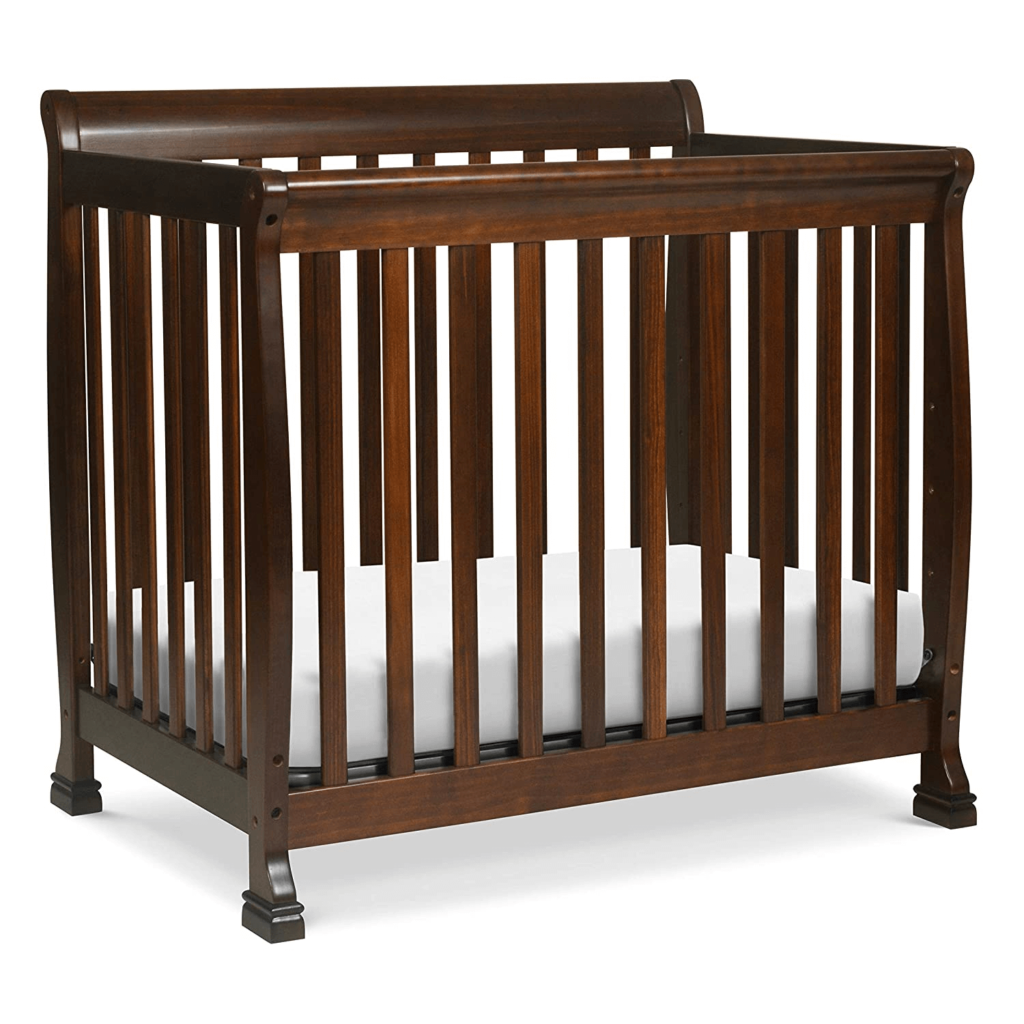 This is another Best Mini Crib constructed of New Zealand pine, just like the Babyletto, but it has a more substantial appearance.
It is available in chestnut and black, and its traditional design is enhanced by the curved top and foot.
The fact that your baby can grow in this 4-in-1 small crib is by far its best feature. It changes to a daybed, a twin-size bed, a tiny toddler bed, and four different mattress positions.
However, if you want to continue utilizing the mini crib in these ways, bear in mind that the toddler bed conversion kit and the twin bed conversion kit are sold separately, so you'll be spending extra.
Additionally, the mattress is offered separately, raising the total price.
If you enjoy the way the Kalani appears, you may also wish to purchase the three- or six-drawer dresser that complements it.
Regrettably, a changing table for diapers is not part of the Kalani product line.
What's notable is that the Kalani Mini is still small and takes up little space, while being slightly larger than the Origami Mini and many other mini cribs.
Stand Out Feature
As your child grows and masters rolling over, sitting up, and standing up, you may adjust the mattress settings in the Kalani 4-in-1 Mini Crib's four adjustable mattress positions.
For infants, the highest position is ideal because you don't have to stoop down that much to put the baby in and take it out.
The fact that the DaVinci Kalani Mini is convertible is its best feature. By taking out the front poles and replacing them with a guardrail when your child is ready, you may convert the miniature crib into a miniature toddler bed.
Or you can omit the rail and convert the crib into a daybed with one side open by leaving it without it.
Dimensions
40×28.66×38.13 inches
Pros
It offers great value for your money because of its convertible abilities.
Simple to install
Potentially long-lasting
Cons
Very pricey
Not advisable for wooden floor usage
Limited color choices
Best Affordable Mini Crib: Dream On Me Aden 4-in-1 Convertible Mini Crib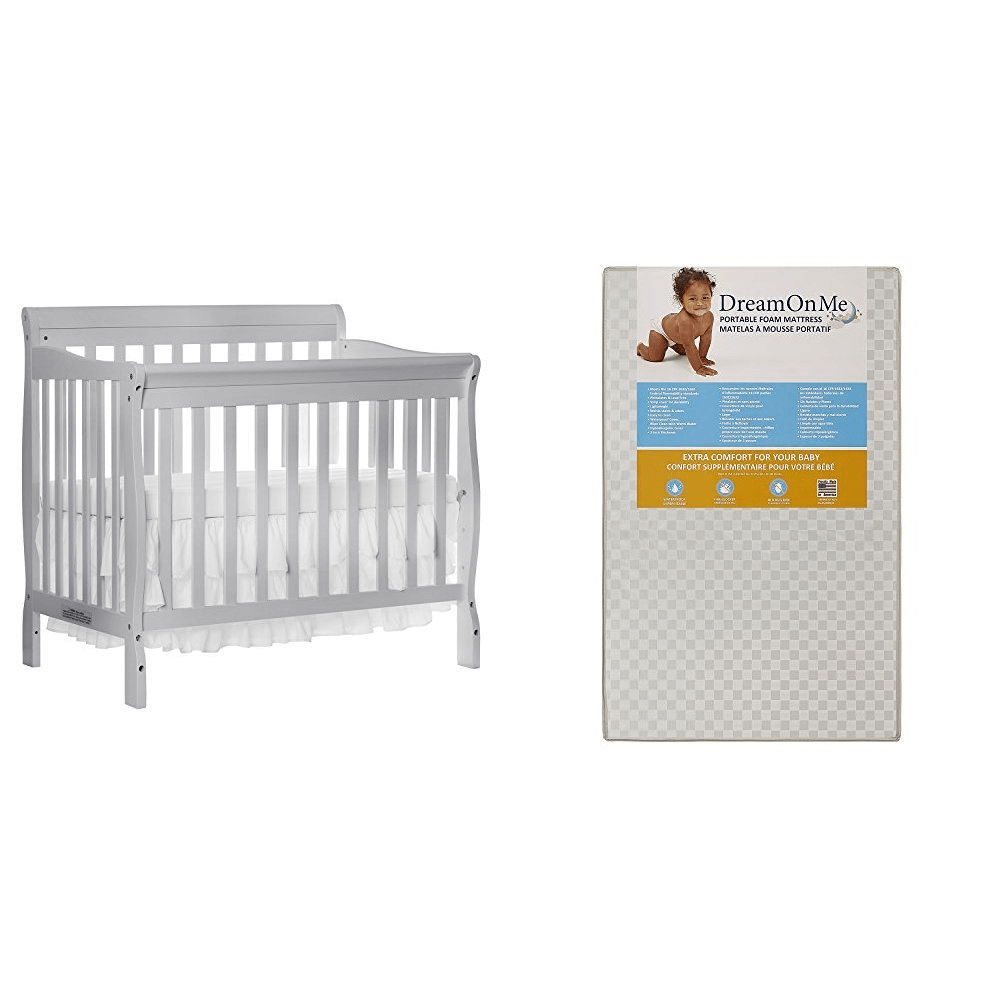 As the name implies, this product is more than just a small cot; it can be converted into a bed, a child sofa, and ultimately a double bed with or without a footboard.
The conversion equipment must be purchased separately in order to turn the tiny crib into a twin bed.
The timeless style of this small crib is available in a variety of hues and materials, including white, French white, cherry, grey, and black. It is constructed from New Zealand pine.
Use the three variable mattress height settings to lower the mattress before your baby starts to sit and eventually stand to extend the life of this small crib. This Best Mini crib may be the ideal option if you're seeking a 4-in-1 small crib.
Although the mattress for this miniature crib is not included, you can purchase it from the same company to assure a precise fit.
Stand Out Feature
Dream On Me Aden is something you're going to appreciate because it develops with your child and is practical for many years. You can use it from birth through toddlerhood, preschool, and beyond!
You can position the mattress in the crib at one of three different heights while using it as a crib for your child.
As well, you may transform it into a toddler bed and then a twin bed as your child develops.
Dimensions
39x23x36 inches
Pros
Simple to construct
Fits well in compact locations
Good variety of mattresses to choose from
Con
This crib doesn't come with adequate instructions
Best Inexpensive Mini Crib: Delta Children Emery Mini Convertible Baby Crib With Mattress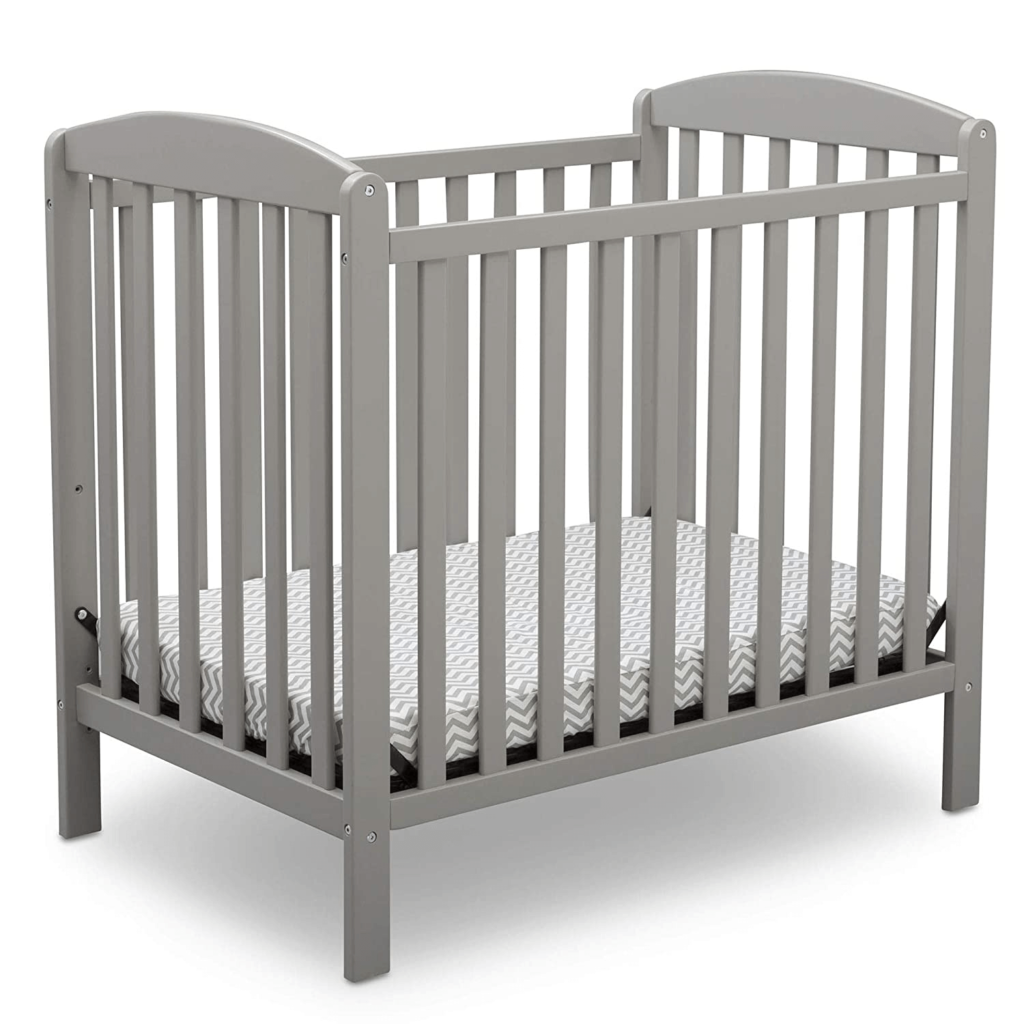 This is a fantastic option for parents on a modest budget as well as those with smaller spaces.
As new parents, you may frequently feel overwhelmed to buy everything for your first child.
However, the Delta Children Mini Crib will be an excellent option if your budget is fixed. It might not have all of those glitzy features, but it still gets the job done.
This baby crib features two mattress levels that can be adjusted: the higher position is for an infant, while the lower position is for a youngster who can sit independently and stand up.
Stand Out Feature
This reasonably priced crib may be converted into a twin bed with a headboard. Your youngster can truly benefit from it almost till they reach adulthood!
Remember that the conversion kit is a separate item.
Dimensions
41.25×25.75 inches
Pro
Very affordable
Sustains your baby till they're almost a teenager
Adjustable mattresses
Con
Alternative Choice Mini Crib: Stokke Sleepi Mini Crib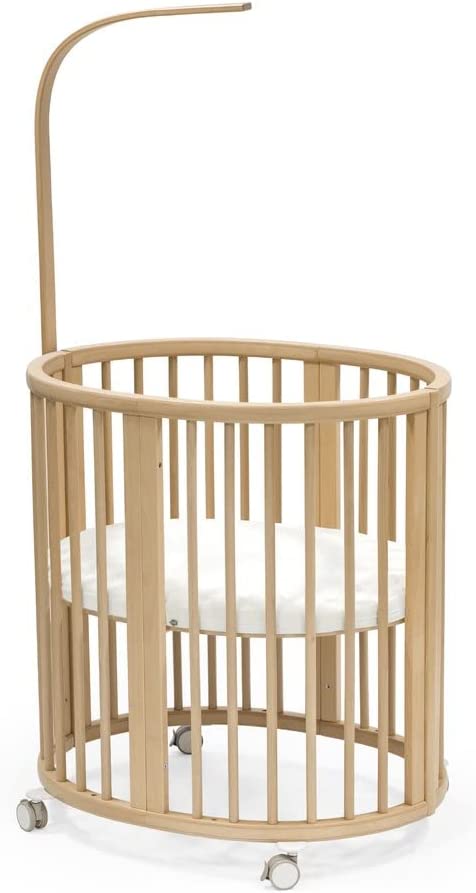 According to the firm, Stokke Sleepi's distinctive oval form offers a nest-like environment that gives your small baby a sense of security.
The Sleepi Mini is the Best mini crib, and it will look so pretty with a matching canopy added. Whether it's in your bedroom or infant nursery, this oval crib will look amazing!
Notably, Sleepi Mini can accommodate your growing youngster for up to 10 years.
Also, as your child grows and learns to stand up, you can modify the height of the mattress levels.
And because the wheels are lockable, you can be confident the crib will remain put.
Stand Out Feature
The Sleepi can be moved from the nursery to your bedroom or living room with ease because of the wheels, saving you from having to lift it.
One of Sleepi Mini's best features is its incredibly small footprint, which works well in studio apartments or shared nurseries.
The cost of the Stokke Sleepi Mini is rather high. It's all a result of its creative design and beautiful appearance.
With a few add-ons, this little crib may be converted into a larger space to accommodate a growing youngster. This function allows your child to stay in their cosy, accustomed bed.
Dimensions
32.67×26.37 inches
Pros
Easily adjustable
Portable
Easy to install
Con
Might not be great for a wooden floor
A little pricey
Looking to pick up the Best Mini crib soon? Here are some options to consider before making that pick:
What To Consider Before Picking A Mini Crib
Thinking about purchasing the Best Mini Crib the next time you visit the stalls, here are five worth-while considerations to watch out for:
Size Of The Crib
Verify the crib's size to ensure it is appropriate for your needs. To determine how much use you will be able to get out of the small crib, look at the manufacturer's recommendations and limitations for child weight, length, and age.
Size Of The Bed
Take into account how simple it will be to obtain tightly fitted bottom sheets for the mattress as small cribs are not the "normal" crib size. To look for fitted sheets for the micro crib mattress you intend to purchase, it can be worthwhile to check online or with a local merchant.
Size Of The Mattress
While some manufacturers sell the appropriate size mattress separately, some small cribs come with a matching mattress.
You might need to buy the mattress from another retailer in some circumstances. To keep your kid safe, it's crucial that the mattress fits the crib precisely, therefore make sure you can easily get the right size mattress.
Adjustability
Is it possible to reduce the mattress setting on the tiny crib as your child grows? To prevent your baby from being able to pull himself up and over the rails, you may need to lower the mattress height as your baby learns to sit and again before your baby learns to stand.
Every baby develops at its own rate, so you'll need to monitor your baby's development.
Mobility
Consider whether you'll be transferring the crib from one room to another, keeping it in a single location, or traveling with it. Does the thing collapse when you need it to? When folded, will it fit in your car's trunk? Does the child's crib have wheels?
Tone And Style
You should choose a color and style for the little crib that you like because you'll be gazing at it frequently. It may also go well with the interior of your house.
White small cribs in the conventional style are on our list, along with mini cribs in more contemporary hues like black, navy blue, and teal.
Wheels
If you require a crib that is portable and can be moved about the house, this is yet another life-saving feature. Select locking wheels for the crib to stop it from rolling away for safety reasons.
Safety Measures To Consider Before Buying A Mini Crib
When using your small crib at home, abide by the following safety recommendations:
Make sure the miniature crib is put together in accordance with the directions.
Make sure there are no damaged slats or paint chips, as well as any loose screws or bolts.
As your child develops, lower the mattress so that she can't pull herself up and crawl over the bars.
Keep the crib free of toys, bumper pads, pillows, blankets, loose bedding, and other items throughout the first year of your baby's life. Also, always put your baby to sleep on his back in the crib.
Best Mini Cribs: Frequently Asked Questions
Why Should I Buy A Mini Crib?
If you don't have a lot of room in your apartment, a mini crib is a wonderful idea. If you prefer to keep your baby's cot in your room, this is a perfect alternative. They are also suggested by me for parents who reside in studio apartments and for small nurseries.
One of the best small cribs should be purchased primarily for its space-saving design. Your flat won't get cluttered or crowded, and your baby will have plenty of sleeping room.
What Sets A Mini Crib Apart From Full Cribs?
Since they can be used for longer than the first six months—up to 18 to 24 months—mini baby cribs are preferable to bassinets. Some of them can even be transformed into twin or toddler beds.
If your nursery is small or you share a bedroom with someone else, they are also a better option than full-size cribs. They take up less room than typical cribs because of their smaller footprint.
Should I Buy A Mini Crib For My New-born?
Yes, you should.
New-borns are protected in small cribs because they offer a private sleeping area, don't obstruct airflow, and have undergone extensive testing for harmful compounds.
The AAP recommends a solid, level surface with a fitted crib sheet, no bedding, blankets, loose textiles, soft toys, or pillows since they increase the risk of SIDS or asphyxia for new-borns. The safest place for a little baby to sleep is in a crib or bassinet, and the AAP discourages co-sleeping.
Best Mini Cribs In 2022: Our Best Pick!
For compact nurseries, room sharing, and twin sleeping arrangements, mini cribs are the ideal choice. But do you give up quality when you buy a smaller crib?
This is why we chose the Babyletto Origami Mini Crib as our winner in this piece in that it covers all the functions you'd be needing a mini crib to perform.
Asides from its caster wheel that makes it easy for mobility from one place to another, it is also foldable and can be stored away easily.
Although the Babyletto Origami Mini Crib offers these incredible options easily, any other option on this list would effectively render you all the qualities you need from a mini crib.