As a new parent, there's a high chance you're considering ways to make feeding your little one simpler, more practical, and much cosier. To get you going, we've compiled a list of the Best Postpartum pajamas.
It's impossible to overlook the plush sensation of soft postpartum pajamas. They're perfect for a day of relaxation after giving birth to your new favourite person.
And since they are so comfortable, we really don't want to take them off!
But in all, there is nothing better than a cozy sleeper with a soft sleep shirt and nice pajamas. Thus, we've collected the best pajamas that will keep you comfortable from pregnancy through motherhood, from light maternity nightgowns to snuggly two-piece sets.
Best Classic Postpartum Pajama Set: Maxmoda Cotton Sleepwear Set

This outfit is available in three wonderful neutral hues (black, grey, and navy), and the short-sleeved shirt and shorts are ideal for relaxing, even during the first few weeks when you have guests over.
It's simple to breastfeed thanks to the dual-layer tee. Additionally, the pants' elasticated waist allows you to alter its fit both during and after pregnancy.
Also, this set is made from natural fabric that is stretchy, soft, and breathable allowing new mothers' skin to breathe while providing the ideal level of comfort.
As an extra tip from us, wear the cozy cotton pajama set whether you're pregnant, giving birth, nursing your child after being pregnant, or just lounging around. It's just perfect for every occasion!
Pros
Drawstring waist for a comfortable fit.
A variety of colors.
Very soft-textured and stretchy.
Cons
As opposed to being thick, the material is thin.
Best Lounging Postpartum Pajamas: Ekouaer Nursing Pajamas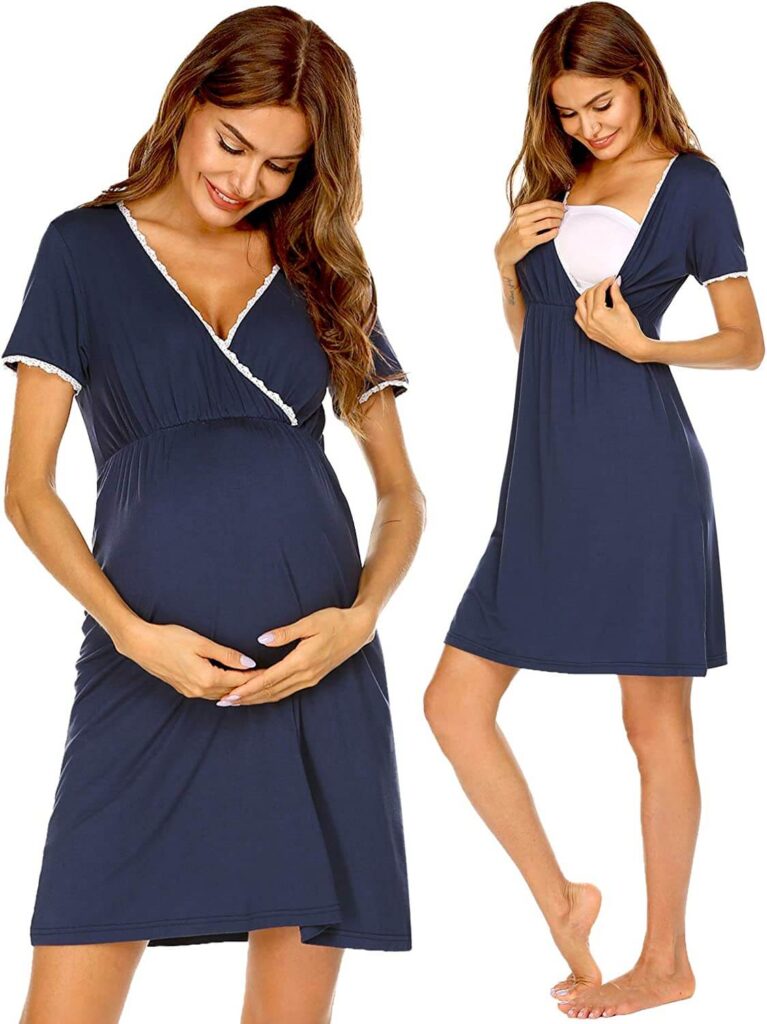 If you're ever in need of a postpartum pajamas that'd keep you company when it's hot outside or perhaps, you just need to feel much soothed on hot days, this loungewear sets should be added to your cart!
This nursing-friendly two-piece set made from 95% rayon and 5% spandex fits just perfectly with any body size because of its 100% elasticity.
Also, it includes chic striped shorts and a tank top that can be pulled to the side for easy access to breastfeed your little one.
No matter where you are in your postpartum journey, the shorts will be comfortable because they have an elastic waistband with button extenders for complete adjustability.
In addition, the versatility of this loungewear pajama set cannot be overemphasized as it is made of comfortable, breathable, soft fabric.
This ultra-soft nursing pajama set is unquestionably an excellent option for a mother who is expecting or nursing.
Pros:
Very comfy for both expectant and nursing mothers
Stretchy and soft materials
Con
Best Long-Sleeve Postpartum Pajama: Kindred Bravely Jane Nursing Pajama Set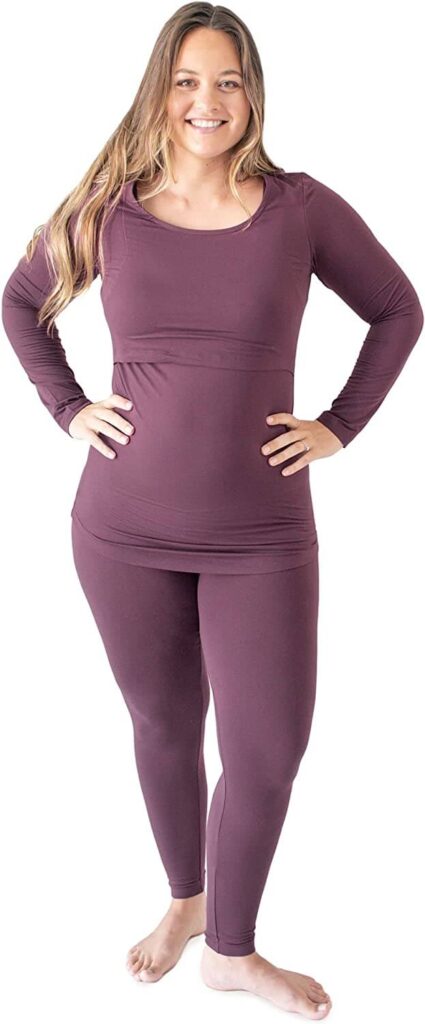 What's a better way to cuddle with your baby or your bump if not while wearing excellently soothing pajamas like this one?
This nursing pajama has an incredibly soft, breathable fabric that is ideal for wearing alone inside or under other clothing for enhanced warmth without adding bulk.
With the help of the clever nursing panel, you may breastfeed your child while taking part in all of your favorite fall and winter activities without having to pick between the two.
Therefore, taking off layers of clothing to nurse is no longer necessary!
This stylish and adaptable pajama set will rapidly take over as your go-to loungewear because it is made to be worn throughout a pregnancy, breastfeeding, and beyond.
Say goodbye to cumbersome, sweaty warm PJ sets with the Jane Breastfeeding Thermal Pajama Set's discrete nursing access and sleek, feminine design!
Pros
Soft and stretchy material
Nursing-friendly
True to size
Cons
Extra space may be lacking for bigger bumps
Elastic easily stretches out
Best Postpartum Pajama With A Bra: Kindred Bravely Betsu Bamboo Nursing Nightgown

This cosy nursing nightgown is made of soft, ribbed bamboo fabric and is intended to be worn before, during, and after your pregnancy.
Comfort is offered during lengthy breastfeeding sessions and newborn cuddles because of the fabric's extreme softness and elasticity.
Also, this pregnancy nightgown is the ideal option for relaxing at home or hosting guests because it features stylish accents like pockets, convenient snaps, and a curved hem.
As well, its long sleeves keep you toasty in colder months, but the bamboo fabric's breathability and above-the-knee hemline keep you cool in hotter ones as well.
Furthermore, this chic henley nursing nightgown has practical features, too! Quick breastfeeding access is provided by simple snaps, and a built-in shelf bra provides light support, which is ideal for holding nursing pads in place while you sleep.
You can comfortably transition from early preschool pick-ups to late-night nursing sessions, thanks to the soft fabric and fashionable pattern of this pregnancy nightgown.
Additionally, the functional pockets are ideal for securing your phone, keys, and other necessities.
Pros:
Soft material
True to size
Perfect for breastfeeding
Cons
Elastic stretches out in no time
Built-in bra might get itchy depending on body types
Best Postpartum Robe: Molliya Maternity Nursing Robe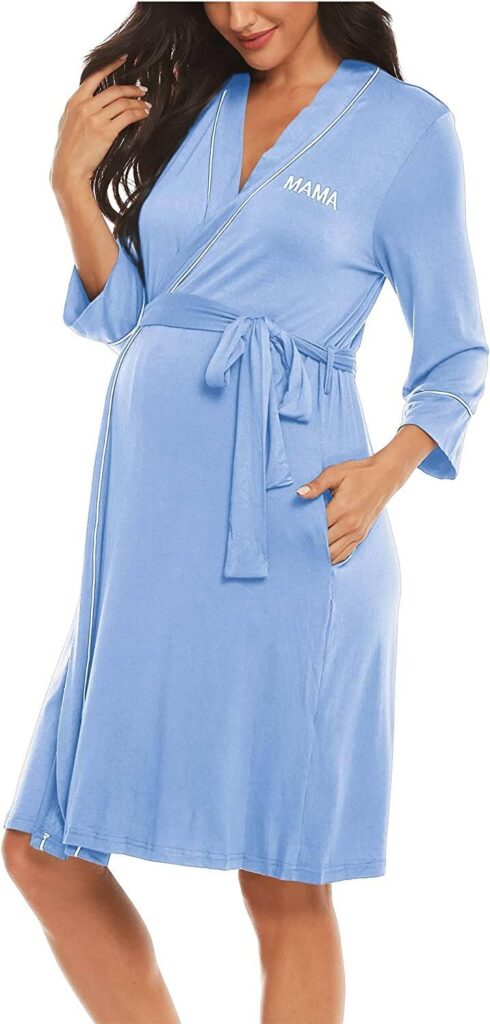 This is a multi-purpose maternity nursing robe with 3/4-length sleeves and a sweet Mama pattern.
This robe is made more stylish and elegant by contrasting white piping. While you are relaxing or nursing your baby, side pockets are useful for storing items or for keeping your hands warm.
The elastic belt on the wrap nightgown may be pulled aside to reveal a V-neck for nursing, and it fits all body types.
Also, this maternity robe is made up of 95% rayon and 5% spandex. Hence, making you feel more comfortable, thanks to the fabric's softness, breathability, and lightness.
This maternity bathrobe serves as not only a nightgown but also as pregnant clothing, labor and delivery attire, hospital nursing robes, breastfeeding attire, and pregnancy sleepwear.
It's perfect for pajama parties, baby shower theme parties, photo shoots, trips, spa days, and working out at the gym. Unquestionably one of those necessities for daily living.
Pros:
Very plush and soft fabric
Versatile and multifunctional
Cons:
Thin fabric
Elasticity wears out in no time
Best Postpartum Pajama For Labor: Baby Be Mine 3-In-1 Labor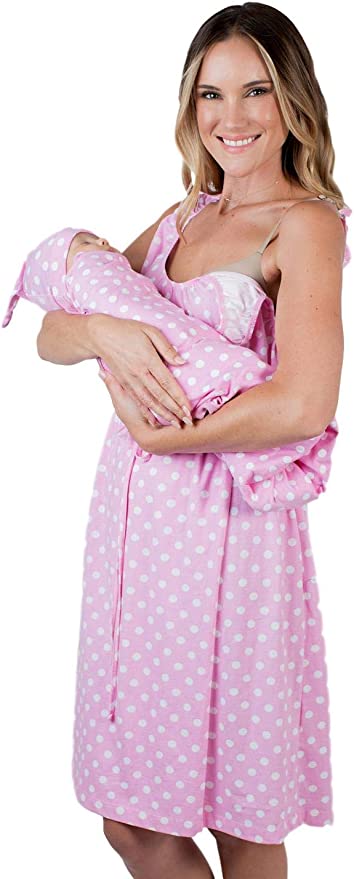 This three-in-one Baby Be Mine dress is a must-have because it is inexpensive and adorable.
This gown was meant to be worn throughout labor and delivery as well as when nursing.
Breastfeeding is made simple by shoulder snaps, and you may choose the appearance you want thanks to the adjustable waist.
This dress, which is made of jersey-knit cotton, may be machine-washed and dried without harm.
Pros
Great designs
Clasp tank sleeves
Breathable material
Con
Now that we've highlighted the best of the best postpartum pajamas for a nursing parent like you, how about we show you the different factors to consider when choosing a postpartum pajama for yourself?
We found out that a lot of new moms find it difficult to pick the best postpartum pajamas for nursing, especially when it comes to online shopping.
Let's quickly get you sorted on that so you never have to waste the next minute deciding whether or not to pick from the bests we've highlighted above!
Best Postpartum Pajamas: What To Consider Before Making A Pick
Comfort
You should think about the information of the fabric you're about to choose. Many parents choose textiles that are elastic, breathable, and don't scratch. Particularly after nine months of sweaty body parts rubbing against one another, you deserve at least that.
Your enemy is 'itch', especially if you have pregnant prurigo. Gentle textiles like cotton are essential because these itches may get very uncomfortable, as well, bug-bite-like rashes may persist on you for a few months after giving birth.
So, it is of the essence that you choose comfort over appearance when next you're about to make that pick for your postpartum pajamas.
Extra Space
After giving birth, you'll drop roughly between 10-15 pounds, but the remaining weight you put on throughout those nine months may stay with you for a little while longer.
A size bigger would be comfortable because it's difficult to anticipate when – or if – you'll return to your pre-baby size, not forgetting to add that your breasts will swell if you're breastfeeding. Hence, a need to go for a size higher.
Even better, purchase pajamas in a few different sizes. You'll have a spare pair available in case of weight loss or gain.
Simple To Use
Considering how challenging it is to constantly feed a baby day and night, it is important that you pick a postpartum pajama that'd easily let you breastfeed.
When it's time to breastfeed, you should be able to pull your top down or apart so that your baby can reach your nipple completely while still keeping the rest of you covered.
An option in this situation is a button-down shirt. Even simpler options include lift-up or side access designs that let you access your nipples using just one hand.
Soothing
During your pregnancy, did you feel unexplainably warm? Or do you feel the constant need to get under the sun to tend to your daily activities?
After the birth of your baby, your hormones will change. You might not have anticipated experiencing hot flashes for a few more years if your estrogen levels drop.
The golden rule of pajama purchasing is for it to be cool, soothing, and relaxing. Choose lightweight materials like cotton.
Having read about the factors to consider when shopping for a postpartum pajama, we'll go ahead to answer the most frequently asked questions about postpartum pajamas.
Best Postpartum Pajamas: Frequently Asked Questions
Why Do I Need Postpartum Pajamas For Nursing?
Although you don't need them, postpartum pajamas could be desirable. However, you can expect to experience some postpartum soreness after giving birth.
Thus, postpartum pajamas are designed to keep you comfortable all through your breastfeeding journey.
Additionally, you can easily nurse or chest-feed your infant while wearing these pajamas.
Nonetheless, we'll recommend postpartum pajamas for all nursing mothers that are sleep-deprived due to late-night breastfeeding.
What Are The Best Postpartum Pajamas For Nursing?
This leads us to our final decision on all the above-listed postpartum pajamas for nursing.
For us, we'd have recommended the Kindred Bravely Betsy Bamboo Nursing Nightgown. It allows for lengthy breastfeeding sessions and new-born cuddles because of the fabric's extreme softness and elasticity.
However, we can't generalize this option for every nursing mama out there as this is only our option based on features that might not be compatible with your body size and type.
Our advice?
Buy pajamas with a blouse that is simple to open so that every time you breastfeed, you won't need to take your clothes off from the waist up if the fabric pulls down or apart.
Also, we'd advise that you consider nursing pajamas that can keep both you and your baby warm throughout the breastfeeding period.
Lastly, always bear in mind the factors to consider before choosing a postpartum pajama that we've listed above as they would carefully guide you to picking the best postpartum pajamas for your nursing journey.
Our Soothing Takeaway Tip For You
Early days of breastfeeding can be challenging. When you're feeling low, the little things, like a cozy new pair of pajamas, might give you the push you need to get through.
Even though we're sure you can get by with your worn-out college tees and your partner's worn-out boxers, don't feel bad about treating yourself to something new. Self-care is important. You deserve it.
Of course, start shopping!