A trip to Disney World is one of every family's ideal holiday locations! And because there'll most definitely be a lot of places to tour over there, finding the Best strollers for Disney World is important.
Sometimes, even energetic young children and pre-schoolers, who seem to have no bounds to their enthusiasm, can fall after a long day of Disney's walk.
Although, family preferences may differ, however, it is necessary to take into account several factors when choosing the ideal stroller. These factors include comfort, which is the most important, size, price, weight, and so much more.
It can be difficult to select the stroller that best suits your needs when there are so many possibilities, each claiming to be the finest stroller for Disneyland.
But, to help you save time and hassle, we have created this guide.
You're likely to find some insight to guide your choice, whether you're looking for the best double stroller for Disney or stroller accessories for Disney in this piece.
Also, you may find reviews of the top strollers for older kids at Disney as well as a list of their noteworthy features in this guide.
Best Overall Stroller For Disney: Baby Jogger City Mini GT2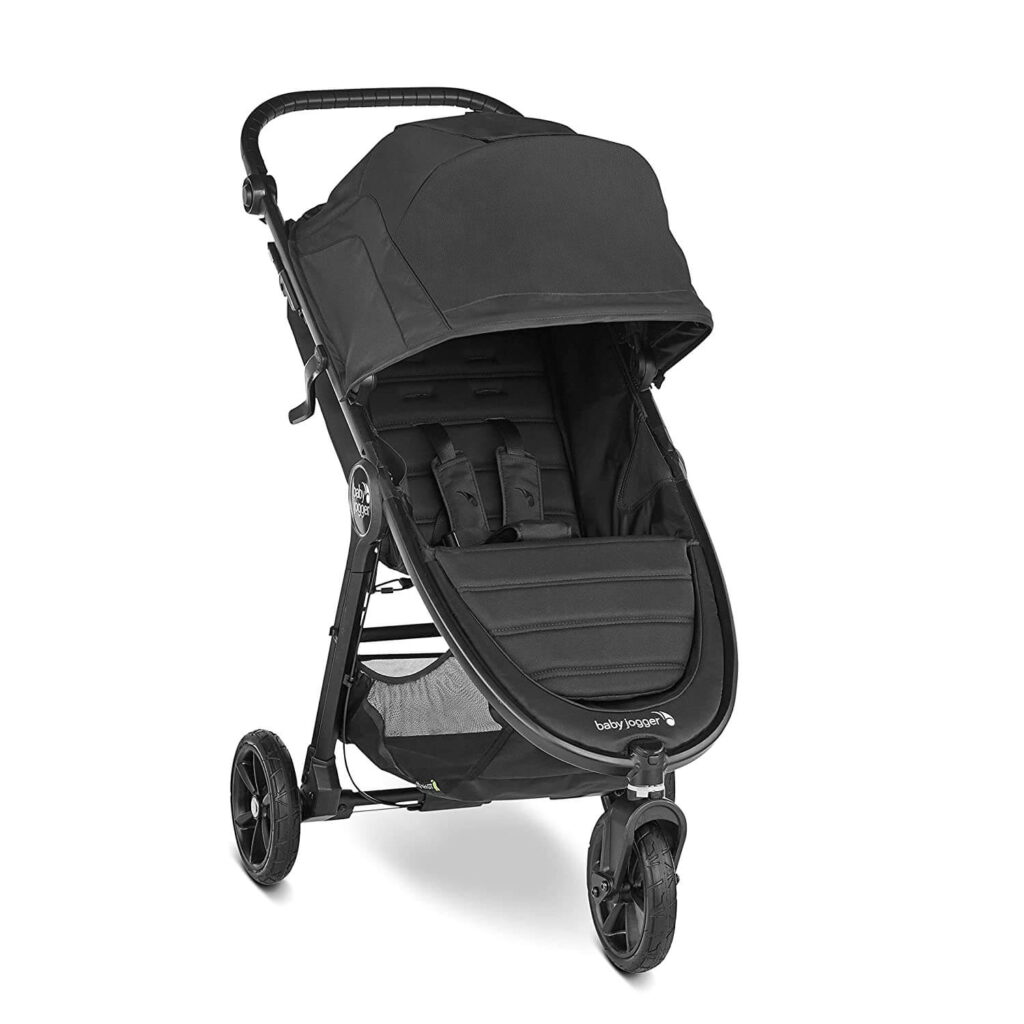 You've probably ended up with a Baby Jogger City Mini if you've ever rented a stroller from a third-party firm close to Disney parks. Many may wonder why many of these firms fill their yards with legions of them.
We're here to tell you just why? It's because they just function! And they're great at that too.
One of the top travel strollers on the market, the Baby Jogger City Mini GT2 offers plenty of shade while your child naps in the nearly flat reclining seat with adjustable calf support.
The infant car seat adapters that come with this stroller make it simple to convert into a travel system, while its patented one-hand compact fold and auto-lock are ideal for situations where you need to disassemble your stroller quickly.
Also, all of your necessities may fit in the roomy under-seat storage basket, which is accessible from both the front and the back. The approximate weight of this stroller is 24.4 lbs, making it a heavy one.
Another excellent quality of the City Mini GT22 is its effortless pushing, which is a requirement for any Disney stroller.
Although it has a relatively small footprint, the City Mini is as versatile and easy to operate as a multi-terrain or jogging stroller.
When visiting Disney World and needing to fold the stroller for transportation on shuttle buses, they make it remarkably simple to do so with just one hand.
Additionally, the double front-wheel suspension offers the quietest ride possible for both parents and children thanks to its greater shock absorption.
Likewise, Baby Jogger makes a glider board exclusively for their strollers if you have two kids but don't want to carry around a double stroller. The older child can stand on this platform and ride instead of walking.
Pros
Ample sun protection
Complete recline
Simple folding
Cons
More expensive than many single strollers
Very bulky
Best Value Disney Stroller: Gb Pockit Air Compact Stroller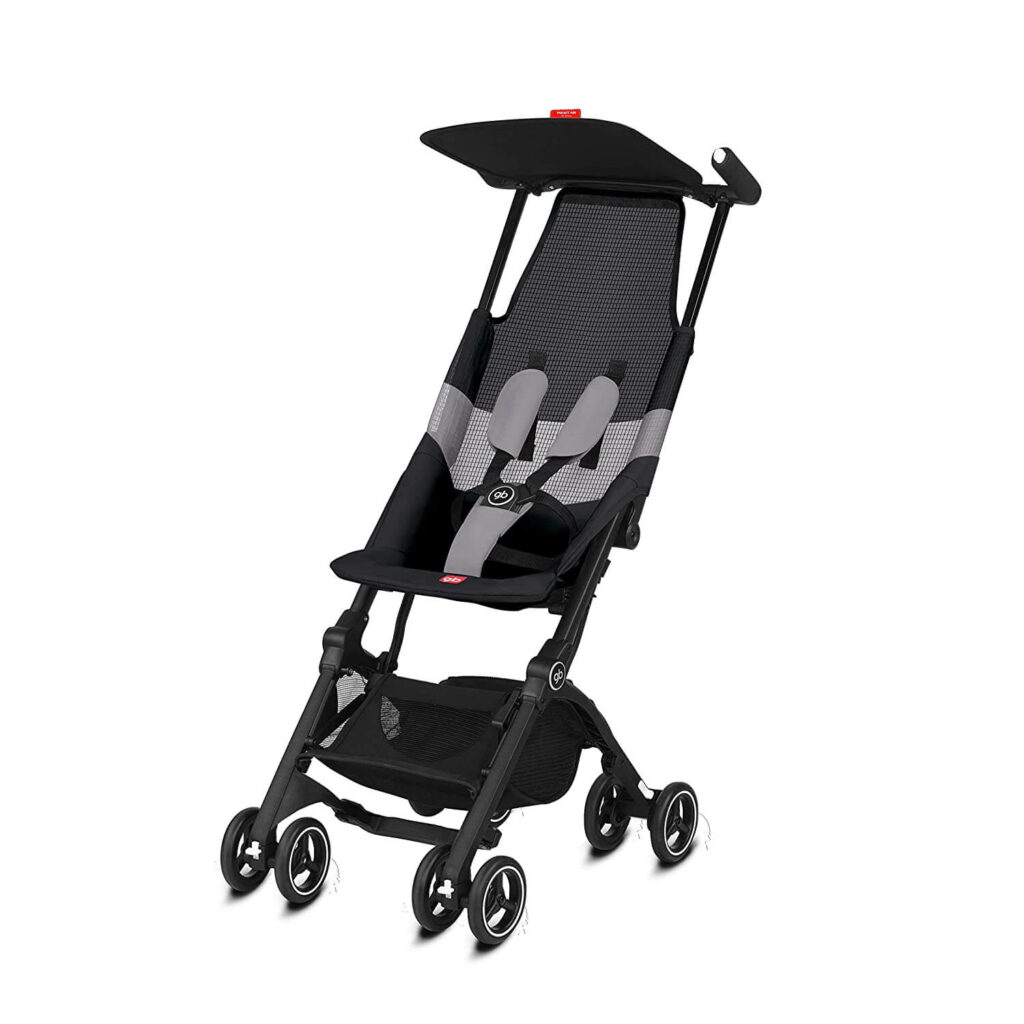 The gb Pockit Air Compact Stroller may be the greatest stroller for travel if your family travels frequently.
10.4 lbs is a rather small weight for this stroller. Additionally, it collapses so compactly that you can fit it beneath the seat closest to you when traveling by aircraft as a carry-on.
The ability to bring this stroller on Disney transit is a fantastic feature for airport travel, thus, making this stroller a fantastic choice for Disney adventures.
With the parasol and storage basket, you do make some compromises. Although they are both present, they are both quite little. Given how compact the stroller as a whole is, this is not surprising.
Moreover, the seat is composed of a flexible mesh, which will improve your kids' comfort and ventilation on warm days.
Children up to 55lbs are permitted to use this stroller. However, it is not suitable for infants as doesn't tilt.
Because of its extreme lightness and ability to fold up so little, the gb Pockit is ideal for stowing away in hotel rooms or traveling busy shuttle buses.
Pros
Extremely agile for avoiding crowds
Small fold for taking the railways or shuttle buses
Perfect for visitors traveling on their Disney trip.
Cons
Little storage
Little sunblock
May be too short for parents who are quite tall.
Budget-Friendly Disney Stroller: Kolcraft Cloud Plus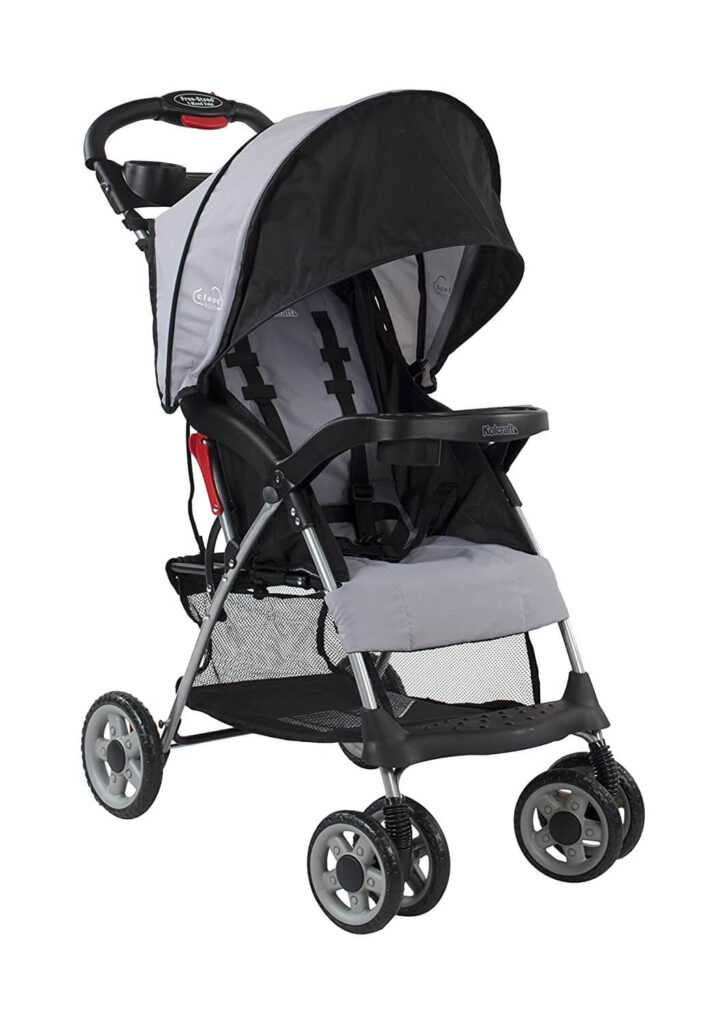 This Kolcraft Cloud Plus Travel Stroller might be the ideal choice if you're seeking the best stroller to carry to Disney World at a reasonable price. It is a straightforward stroller with a sizable storage bin for your items underneath.
The stroller can support up to 50 pounds of weight. Even though the seat can't recline all the way, there are still alternatives to make it comfy for your youngster.
The three-tier canopy will continuously shade your youngster and shield them from harmful UV radiation. The canopy's built-in window allows you to watch your youngster from within.
And because it is one of the best single strollers for Disney, you'll never have to experience a difficult time pushing it. The wheels of this stroller are shock-absorbing, so you will be able to push it comfortably on all various types of terrain.
Pros
Cost-effective
Big storage space
Its three-tier canopy offers excellent UV protection
Features window that lets you watch over your infant.
Cons
Brakes sometimes may not lock smoothly and easily.
Best Value For Disney Stroller: Bob Gear Revolution Flex 3.0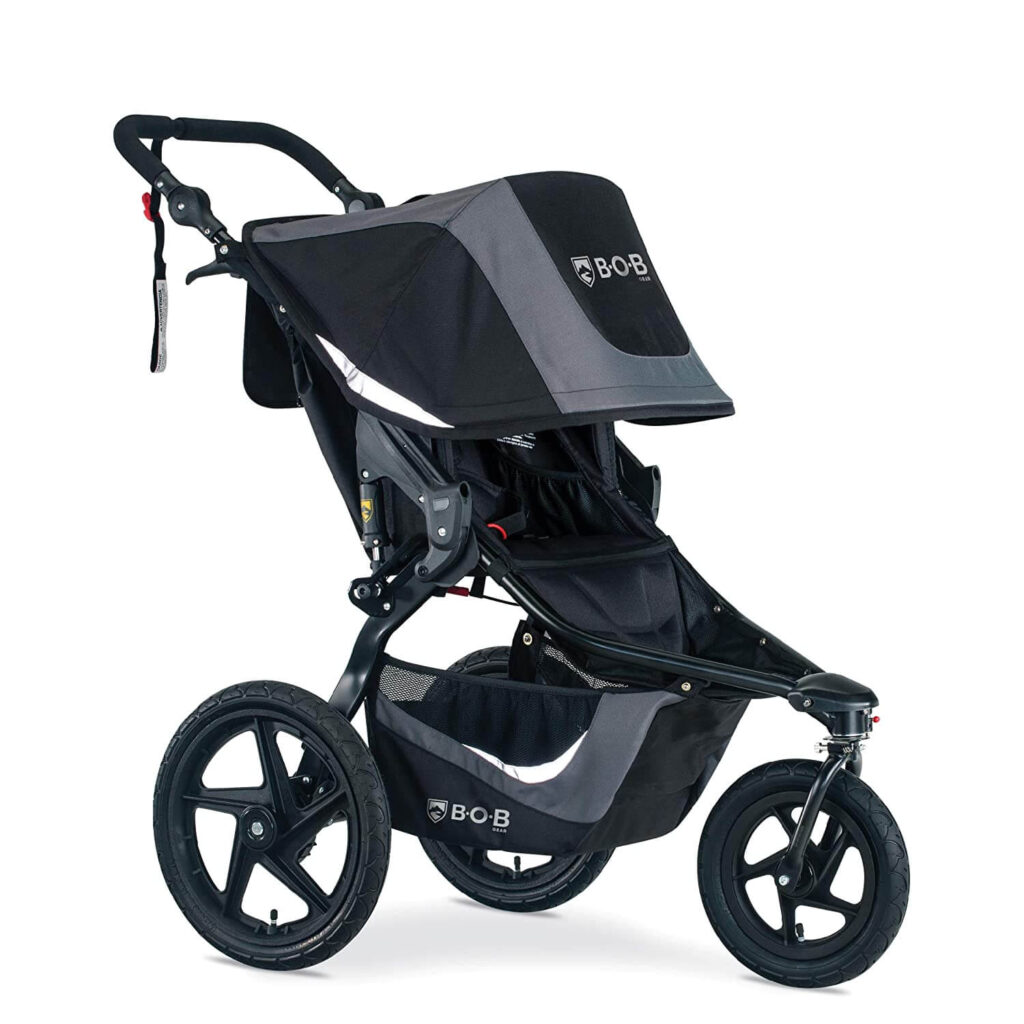 The BOB Gear Revolution Flex 3.0 Jogging Stroller is highly regarded as the best 3-wheel stroller option because of its many enticing features.
One of the best strollers for theme parks is the BOB Gear Revolution Flex due to its exceptional versatility and comfortable ride.
It has suspension technology and air-filled tires to help make riding on difficult terrain more comfortable.
Also, the front wheel can be entirely rotated or locked while jogging. A wrist anchor strap is also included to keep the stroller from drifting away from you as you run.
There is a UPF 50 water-resistant umbrella to keep your child safe, as well, there is a magnetic window that closes on top so you can monitor your child while you push.
With the Flex's ultra-padded compression seat with infinite reclining options, your child can travel in the utmost luxury.
Additionally, the seat has good padding and may sit either entirely erect or virtually flat on the ground.
Pros
The suspension system and air-filled tires make it possible to go over any terrain comfortably.
There is a ton of extra storage, including six storage compartments, an extra-large baggage basket, and a cell phone pouch at the handlebars.
The child's seat is a compression seat that is extremely cushioned and has an infinite recline that can be adjusted from sitting upright to lying flat.
Cons
There is no snack tray or cup holder available (can be purchased separately)
Hefty and challenging to fold
Best Alternative Choice For Disney Strollers: Summer Infant 3D Lite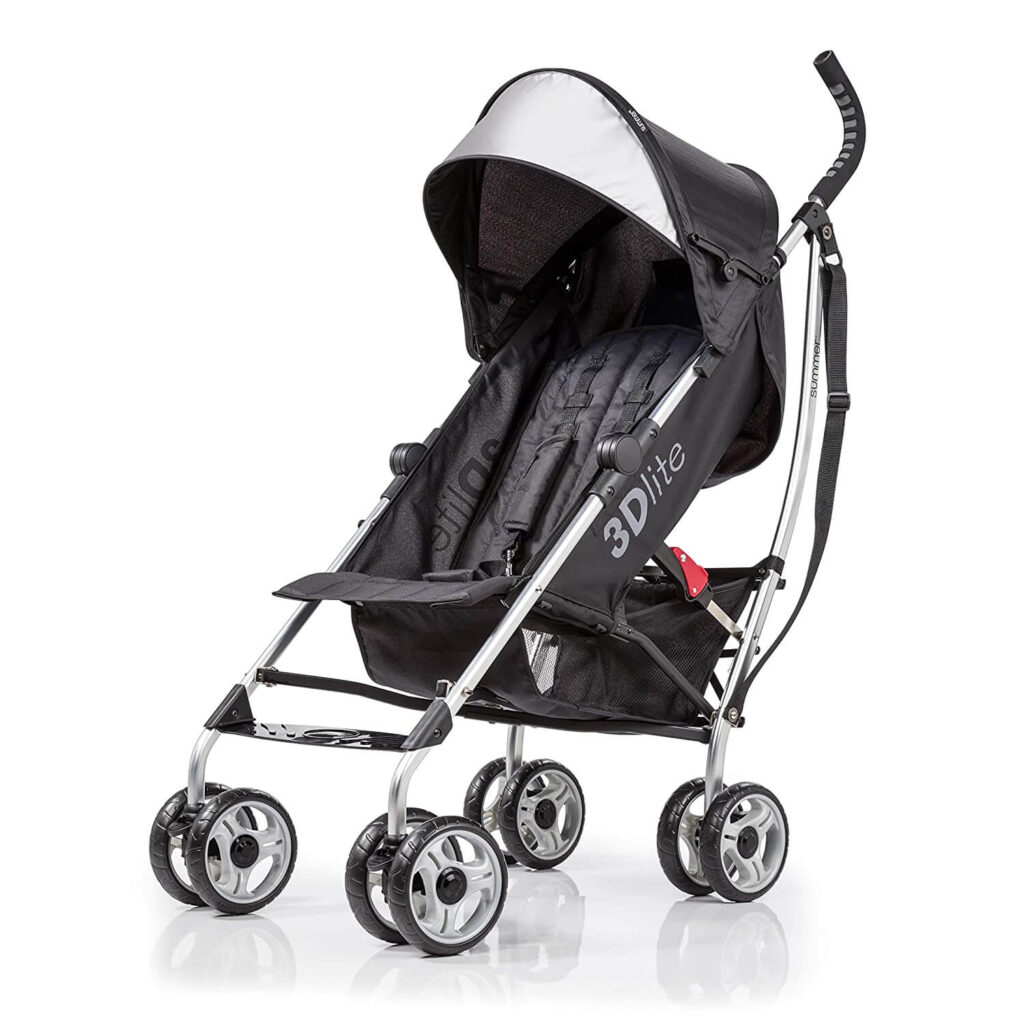 The Summer Infant 3D Lite+ baby stroller is lightweight at 14 pounds, folds up small, and includes a comfortable carrying strap. If you intend to use it for any kind of travel, it is unquestionably a positive from us!
This stroller will be quite cozy for your child because of the reclining seat and large canopy. As die-hard Disney fans, we adore that the canopy is perfectly large to shield your children's eyes from the bright sun, making this the finest stroller to bring to Disney World.
Featuring a parent cupholder, a child's sippy cup holder, and a zip-close storage compartment, this Disney stroller is ideal for navigating theme parks quickly.
Also, you'll be able to use this stroller for several years as it supports children weighing up to 50 pounds.
Pros
Large-scale canopy
Big storage space
Convenient
Con
Makes space for the containment of only one child.
Helpful Tips To Consider Before Your Next Trip To Disney
Now that we've hinted to you the best strollers to take on your next Disney trip, here are a few more pointers for handling strollers while visiting Disneyland or Walt Disney World with a baby, toddler, or pre-schooler:
Renting Strollers In Disney Can Be Expensive
Disney does provide stroller rentals, but they are pricey and cannot be used everywhere. Strollers must stay in the parks or at Disney Springs when visiting Disney World. Their use is restricted to Downtown Disney and the parks at Disneyland.
However, if you require a stroller for your hotel or other activities, you may want to think about alternate options like bringing your own or hiring one from a business off-site.
Use The Parking Spaces
In numerous locations throughout every park, Disney offers allocated stroller parking places. Look for the specified spaces to prevent blocking walkways and getting your stroller relocated.
Allocate Special Markings To Your Stroller
To help you find your stroller amidst the crowd, try decorating its handle with a bright ribbon, marker, or a balloon with a bright color.
This is because even if you leave your stroller in a specified spot for stroller parking, you can come back after a ride and discover it in a different place.
Don't worry, cast members do relocate strollers to maintain the organization and consolidation of the parking spots. Hence, it is advisable that you allocate special markings to your stroller.
Protect Your Stroller
The truth is that in Disney, your stroller is quite safe. However, if you are concerned about theft, label your stroller with your name in a discreet location and conceal a GPS tracker within it.
This way, you'd be able to keep track of your stroller.
How To Pick The Best Stroller For Disney
There are many different styles and sizes of strollers that are suitable for Disney World and Disney parks.
When it comes to the variety of possibilities available in today's market, there are plenty to pick from, which is both beneficial and detrimental.
Take into account the following characteristics and functionalities that best fit your needs before picking which stroller is appropriate for Disney World:
Mobility
When deciding on the best stroller for a big kid at Disney, this is a very crucial factor to take into account. There are a lot of barriers and thousands of people in the park, so you want to choose a stroller that is simple to maneuver through crowds.
Ability To Fold
Finding the best Disney park stroller that is simple to fold and transport comes after mobility. You must fold your stroller, especially if you decide to ride Disney transportation. We're pretty sure you don't want to be left unable to close the stroller.
To make them even more portable and manageable to wield, some strollers additionally have carrying handles.
Stroller's Size
For Disney World, a big stroller might not be the best option because it might be challenging to maneuver through the throng. Strollers that are small and lightweight are a great option because they will make your vacation more enjoyable and stress-free.
Before buying a stroller, make sure to verify the weight restrictions for each model. You should opt for a stroller that will serve you well for a long time.
Safety
Safety in the stroller can never be overemphasized. And just like every other product for children, it is crucial and of the biggest significance.
To ensure safety, there are several other factors to consider when choosing the finest stroller for Disney. Sunshades, harnesses, headroom, rain cover, and seat belt are just a few examples.
Recline Function
For kids who take naps, this function is essential. It's crucial for kids to be able to snooze comfortably so they can enjoy the rest of the day because days at Disney World may be lengthy and monotonous.
Best Strollers For Disney: Our Best Pick!
Choosing the best stroller for Disney is easier when you take into account all the significant elements, such as stroller design, wheel type, safety belts, as well as your personal preferences for features like handlebars and seat recline to suit you and your baby.
However, our top pick is the Baby Jogger City Mini 2 since it has ample sun protection, and all the essential features, like air-filled tires, suspension, a wheel locking system, and storage! The best aspect is the foldability, which is a huge perk for us and ought to be for you as well!
Nonetheless, the other highlighted strollers would perfectly deliver to you an optimal function of ease and convenience during your next trip to Disney.
Now, start shopping and packing!