This is our comparison between the Freemie vs willow breast pumps.
Every mother needs to own at least one hands-free breast pump in her breastfeeding collections.
Sadly, a lot of Breastfeeding mothers are usually stuck at the crossroad of deciding between Freemie vs Willow breast pump.
For this, We have gone to great lengths in researching the two popular as well as best wearable breast pumps in the market.
Although both brands do come with their own unique qualities, we can't help but choose the Willow Hands-free breast pump as the best and most precious nursing essential you want to add to your next shopping list.
At the end of this article, you should be convinced of why the Willow Wearable breast pump is the best thing next to breast milk.
Let's get started.
A Quick Overview Of Freemie Vs Willow
| | |
| --- | --- |
| Freemie Hands-free breast pump | Willow Hands-free breast Pump |
| Price range: $XXX | Price range: $XXX |
| Power: Electricity | Power: Battery |
| Storage: Freemie cups | Storage: Re-useable/ spill-proof bags |
| Key Feature: double-electric wireless breast pump | Key Feature: Pump mechanism app for smartphones |
| Pros: Quiet performance and budget-friendly | Pros: Hands-free & wireless technology |
| Cons: Average suction power | Cons: Expensive |
Freemie Vs Willow Breast Pump – An In-depth Look At Both Products.
Let us take an in-depth look at these two products and what the rave is all about.
Freemie Independence ii Wireless Breast Pumps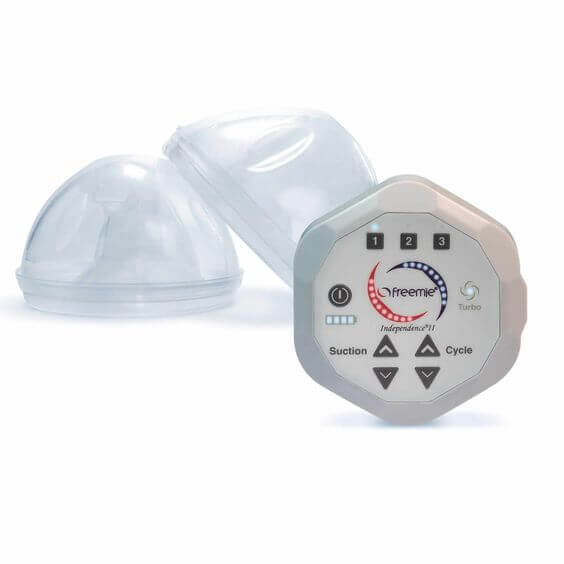 Key Features
Works with other breast pumps in the market
Discrete and wearable collection cups
Cups could hold up to 18 ounces of milk
Budget-friendly
Comes in single and double pump modes
Electricity-powered
Freemie is legendary among nursing mothers. Then again, the reason is not so far-fetched.
Doubling as an electricity-powered and hands-free breast pump, you can look forward to some enjoyable experiences while you pump.
The breast pump features a hexagonally-shaped and palm-sized pump, a USB cord, two funnels, and two collection cups. Both cups could hold as much as 8 ounces of milk.
Freemie is up to the task of offering you a discrete and comfortable experience.
It comes with a single and double pumping mode. You only need to decide which works better for you.
Mothers who made use of Freemie commended its user-friendly guide, easy-to-clean parts and of course, its budget-friendly cost. It is considerably cheap compared to the great value it offers.
However, you must note that the Freemie doesn't operate on battery and you might need to rely on electricity to power it. You shouldn't take it with you when going to locations without a constant power supply.
| | |
| --- | --- |
| Pros | Cons |
| 1. Budget-friendly | 1. Bulky pump unit |
| 2. Compatible with other breast pumps in the market | 2. Absence of a storage bag |
| 3. Lightweight & very discrete | 3. Difficulty and spillage involved in transferring milk from cup to storage bag |
| 4. User-friendly design | 4. Totally dependent on electricity |
| 5. Gentle latch system | |
| 6. Cups can collect 8 ounces of milk each | |
Willow Wireless Breast Pump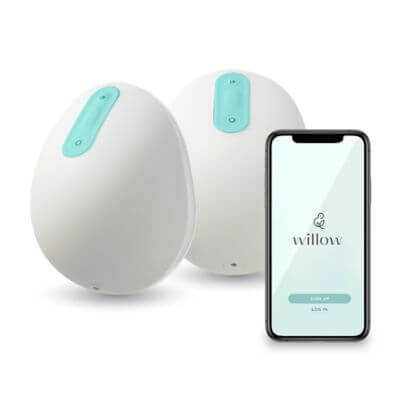 Key Features
Wireless/ Hands-free
Advanced suction levels
Spill-proof bags
App monitor
Compatible with android and ios
No BPA (bisphenol A )
The willow hand-free breast pump is by all means worth every hype it receives.
Thanks to its spill-free technology, nursing mothers are now down for a neat, quick and seamlessly smooth pumping experience. With this breast -pump, you can practically multi-task while you pump.
The willow breast pump package comes with incredible features such as two breast pumps for your left and right breasts, two flex tubes, two flanges, a battery charging cord, two flossing brushes and two storage bags.
Willow breast pump offers you a discrete pumping experience that no one has to know about.
Besides, it features a stimulation and expression mode that reduces mess.
The expression mode automatically becomes activated once 5 ounces of milk have been collected. This helps to reduce spillage.
Willow's crowning glory has to be its SmartApp feature. With your smartphone, you can now connect to the pump mechanism via an app that let you keep track of how much milk has been collected and stored.
The two breast pumps are extremely lightweight and made to fit your breasts perfectly.
In case you're experience some sort of difficulty setting the product, the customer support team is ready to take you on a step-by-step tutorial on how to assemble the product.
| | |
| --- | --- |
| Pros | Cons |
| Advanced suction levels (seven) | 1. Manufacturers could increase storage capacity beyond 5 ounces |
| Longer-lasting battery life of more than 5 sessions | 2. Spill-proof bags are sold separately from products incurring extra cost. |
| Light-weight | 3. High cost |
| Smartphone apps that notify you when the storage bag is full | |
| Comprises fewer parts that need to be cleaned frequently | |
| 100 % hands-free | |
Freemie Vs Willow Breast Pumps: Similarities to Watch Out For!
The Freemie vs Willow are two of the best breast pumps that offer high-quality performances to Users.
You don't have to remain static in a position while pumping, because both pumps allow for mobility regardless of where you are.
Freemie vs Willow feature wearable, quiet, comfortable and easily concealed cups that fit onto your breast like a second skin. This factor alone comes in useful when you have to multi-task
Both pumps can be fitted into your nursing bra while you carry on with daily activities.
Freemie vs Willow both depend on power sources to function.
While Willow comes in with a non-removable battery, motor and Charging port, Freemie is rather dependent on electricity alone, featuring a long connective tube to the left and right parts of the pump.
Freemie Vs Willow Breast Pumps-Differences to Watch Out For
Battery Life
The battery life of Willow is rather not too impressive. It takes about 2 hours to charge to the fullest, however, you are guaranteed at least five pumping sessions on a single charge. Besides, there is a light indicator to let you know when the storage bag becomes filled up.
On the flip side, Freemie takes about 1 hour and 30 minutes to charge to the fullest.
Its downside is the absence of a light indicator to let you know when the cup gets filled. You need to constantly keep checking to avoid spillage. You get at most four sessions on a single charge.
Overall Winner: Willow
Performance
Impressively, Willow comes with a user-friendly and rather straight-to-the-point design you could always count on. The Milk collecting cups and bags could be directly attached to the pumps, reducing the likelihood of spilling.
With Willow, you can quickly and easily relieve your over-filled breast.
On the other hand, Freemie comes with a lot of baggage and attachments. You would have to connect the milk collecting cups to the pump with a tube before you could relieve yourself.
Overall Winner: Willow
Price
As at the time of this writing, Freemie comes within an affordable price range of $89-$199, which is rather impressive given its performance.
However, Willow comes in really expensive, falling within the price range of $329-$529. An extra cost of $100 is incurred if you decide to order the brand's spare parts like its separate spill-free bags, USB chargers, etc
Overall Winner: Freemie
Mobility
We have to applaud Willow when it comes to Mobility. Most of its important features are built-in, encouraging you to move around as much as you like. As a matter of fact, it supports 360 mobility, so you can basically do anything in whatever position pleasing to you.
Although, you can also move around with the Freemie, but to do so, the collecting cups have to be detached.
In this case, the pump has to go down into your trousers while the cup is fixed into your bra. Don't forget that there is a connecting tube which creates an awareness that you've got something attached to you.
Overall Winner: Willow
Weight/ Shape
Willow comes in at a rather heavy size, weighing about 12.8 ounces. Freemie is about 9 ounces including an additional cup weight of about 2.8 ounces.
Willow is shaped to fit snugly on your breast like a second skin while Freemie bears a rather awkward and hexagonal shape.
Overall winner: None
Suction Power
Willow falls within a wide suction power of 35-245 mmHg. It feels so gentle on the nipple and offers you a comfortable pumping experience.
Freemie comes with a suction strength of 280mm
Overall Winner: Both
Hygiene and Cleaning
With fewer separate parts, Willow is incredibly easy to clean. Its additional flossing brush helps you reach parts your hands can't.
On the other hand, Freemie comes with a lot of separate parts including the Pumping Valve, the Flange, and the milk-collecting cups.
Overall Winner: Willow
Storage Capacity
Freemie comes in with a remarkable storage capacity of 16 ounces in both cups.
For Willow, its cup can contain about 5 ounces of milk when filled. You also have the choice of using its spill-free storage bag-which could contain an additional 5 ounces.
Overall winner: Freemie
DIY Guides to Use a Breast Pump
Step 1: Wash your hands thoroughly with gentle soap under running water
Step 2: Have your user's manual at hand. Set up the pump's part in line with the instructions given in the manual
Step 3: Put on the appropriate nursing bra. You might want to consider taking the right measurement of your breast before purchase.
Step 4: Insert the flange of the pump inside your bra, and be careful about latching the flange to your nipple. If done roughly could cause some soreness.
Step 5: Click on the 'START' button of the pump. Mind you, the pump should be properly fitted with no spillage of milk.
Step 6: Go about with your daily activities just like you normally do.
Step 7: After the pumping session is over, pour out the milk collected and carefully rinse the pump with warm water. This should be done after every usage.
Viola! There you have your milk ready to be fed to your baby.
Frequently Asked Questions
Q. How often does the Freemie Pump leak?
A. Not very often. However frequent usage and improper handling over time may lead to leakages
Q. Can I refrigerate my Hands-free pump?
A. Do not refrigerate assembled pumps for a long period of time.
Q. Can I wear my Hands-free pump to sleep?
A. While the Willow allows for 360 mobility, it is advisable not to use your breast pump while sleeping
Q. How often should I wash my Breast Pump?
A. After the pumping session is over, pour out the milk collected and carefully rinse the pump with warm water. This should be done after every usage to prevent bacteria build-up
Q. How long does Willow Simulation last?
A. The newly released Willow 3.0 allows a stimulation mode of a little below 2 minutes, with older generations (2.0 and 1.0).
Q. Can Breast Pumps help solve Mastitis?
A. According to experts, breast pumps when used correctly can help to facilitate the drainage of milk.
Our Verdict!
After careful review of Freemie Vs Willow Pump, here is our verdict on both products.
Willow hands-free breast pump is definitely the best option to go for as a Breastfeeding mother. Although it may seem to be on the pricey side compared to Freemie, be rest assured you are getting every value from the money paid
However, you can go for the Freemie if you're tight on budget and searching for the second-best option in the market.
Related Post: Haakaa vs Electric Pump: Best Proven Choices of 2023