Forcing your large breasts into an ill-fitting bra opens the doorway to many issues you don't want to experience.
It is a nightmare from Skin inflammation, Under-boobs swelling and the appearance of red painful, and pesky bumps! Why go through those painful experiences when you can get the Best Nursery Bras for Large Breasts?
Perhaps, you might be confused about making the right decision and choices, don't worry this article has got you covered.
We've made proper research on the Best nursing bras designed for large-breasted mommas. And the best part is, we've shortlisted five of the best, according to recommendations given by lactation experts.
What time is it? It is time you let those big girls breathe.
Best Nursing Bras for Large Breasts: Our top picks!
Parfait Leila Nursing Bra: Overall best Nursing Bra for Large Breast
Kindred Bravely Sublime Hands-Free Pumping & Nursing Bra: Best Handsfree Nursing Bra for large breasts
Cake Maternity rock candy Wireless Nursing Bra: Best Wireless and Drop-down Nursing Bra
iLove Sia Full burst Nursing Bra ( Pack of 3): Best Value Nursing Bra for Large-breast
Gratlin Full Support Plus-Size Nursing Bra: Most stylish nursing bra for Large breasted mothers
Products Mini-Reviews
1. Parfait Leila Nursing Bra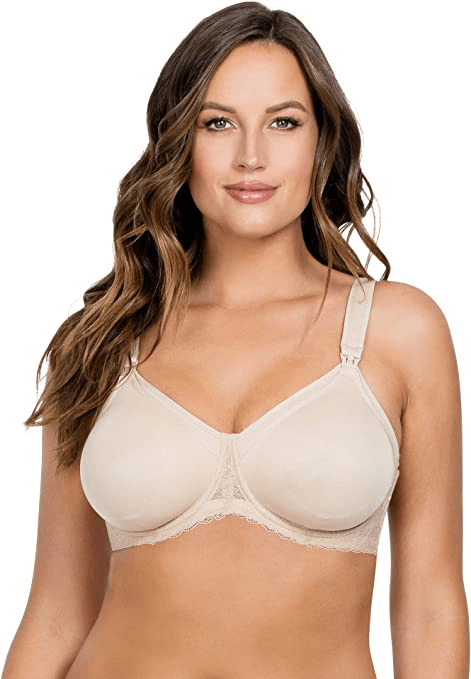 Key Features
Sizing: 32D-44G
Fabric Material: 88% cotton and 12% Spandex
Closure: Snap
Band type: Adjustable
Standout feature: Seamless cup with lace design
Washing Instruction: Hand washing & Line-dry
Pricing: $34.33-$48.0
This is one Nursing bra for large breasted mothers, specially designed to fit their every day wears. Made from a combination of 80% nylon and 20 Spandex materials, the fabric is made to sit snugly on your skin.
Its one-hand snap closure allows for smooth breastfeeding, and an additional pocket enables you to enclose a pad in case of leakages. Moreover, its buttery-soft adjustable straps are designed to offer ultimate support to your shoulders.
The Parfait Leila Nursing Bra spots a unique seamless cup with geometric lace designs, for a smooth contour underneath your cloth, while providing a power-mesh lining for extra support.
It meets all the requirements given by lactation experts regarding Nursing bras for large-breasted mothers.
2. Kindred Bravely Sublime Hands-Free Pumping & Nursing Bra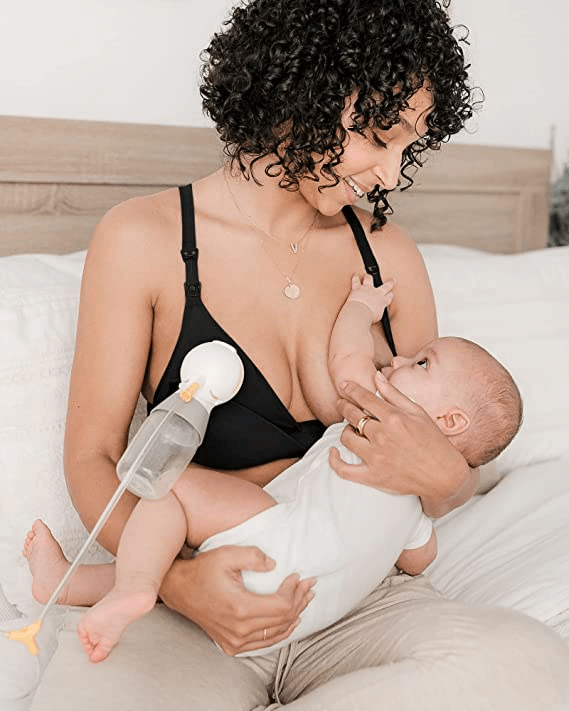 Key Features
Sizing: 30-44
Fabric Material: 73% Nylon, 27% Spandex
Closure: Hook and Eye
Band type: Adjustable
Standout feature: Inner Hands-free Pumping Bra Layer
Washing Instruction: Hand washing & Line-dry
Pricing: $61
This is yet another best Nursing Bra for Large Breasted mothers. Kindred Bravely Sublime Hands-Free Pumping & Nursing Bra is not only made for busty mothers alone but small-breasted mothers too.
The fabrics of the bra are made from a combination of Nylon and Spandex, made to fit your large boob as perfectly as possible. Could that be all? Of course not.
The Kindred Bravely Sublime Hands-Free Pumping & Nursing Bra is a versatile bra that could also double as a hands-free pumping bra. So while you nurse your little one on the left side, you could do your pumping on the right.
Other unique features to watch out for include a moulded cup, flattering neckline, and adjustable band straps, plus it has inner padding to trap escaped breast milk.
3. Cake Maternity rock candy Wireless Nursing Bra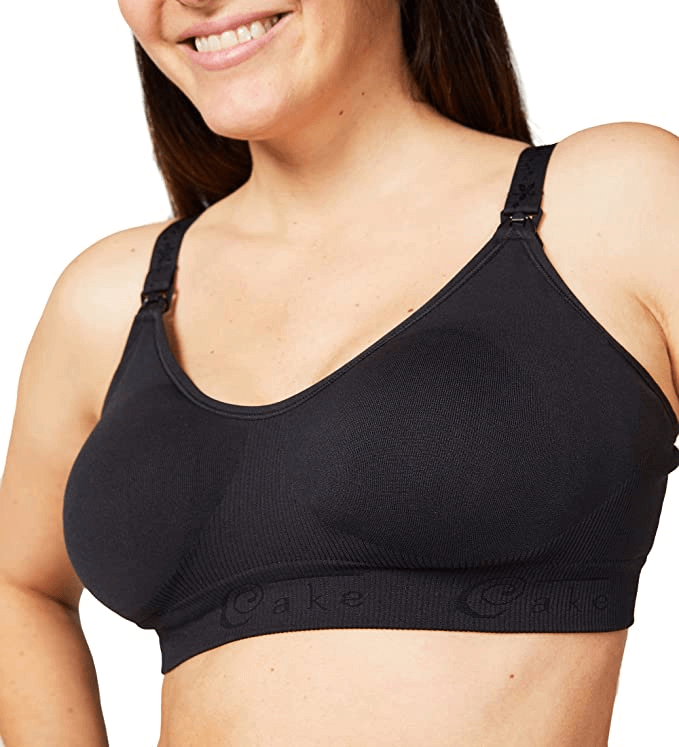 Key Features
Sizing: 32-42
Fabric Material: 92% Nylon & 8% Elastane
Closure: Pull-on
Band type: Adjustable
Standout feature: Certified to be 100% irritants-free
Washing Instruction: Hand washing & Line-dry
Pricing: $49.00
The Cake Maternity rock candy Wireless Nursing Bra is one nursing bra every experienced mother swear by. And we couldn't have agreed any less with them. Its super soft feel and mesh support system makes it one of the nursing bras for large-breasted mothers.
Thanks to its double-layered cup and knitted ribbed panels, breastfeeding mothers could say bye to backaches and other discomforts that arise from using an ill-fitting bra.
What's more, its drop-down cup makes breastfeeding so easy. You can always count on this versatile bra to serve you during pregnancy and breastfeeding periods.
Although, a bit on the pricey side, with its removable foam pads, and multiple-way adjustable straps, you can be guaranteed that you are getting every value from the price being paid. This bra has been certified by Oeko-Tex to be free from toxic irritants to your sensitive skin.
4. iLoveSia Full burst Nursing Bra ( Pack of 3)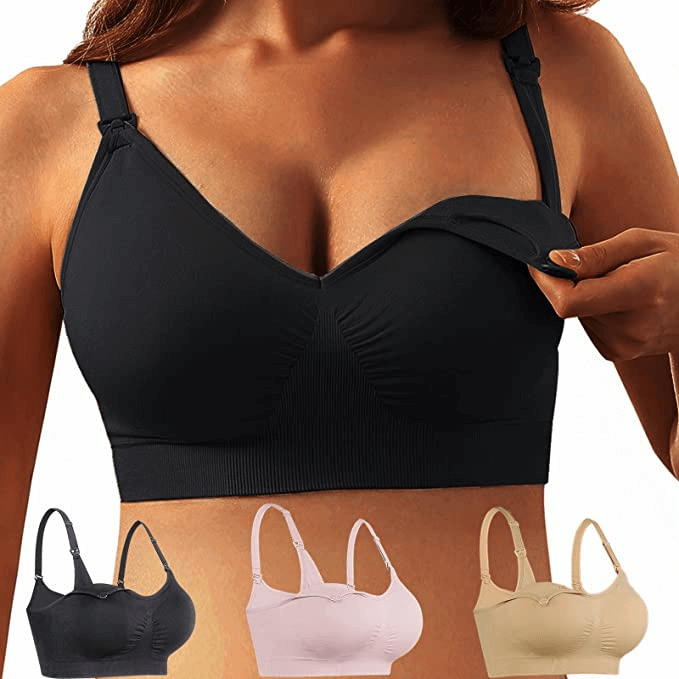 Key Features
Sizing: 30-42
Fabric Material: Breathable and lightweight materials
Closure: Hook and loop
Band type: Adjustable
Standout feature: 4-way high stretch
Washing Instruction: Hand washing & Line-dry
Pricing: $30.99
I love Sia Full burst Nursing Bra ( Pack of 3) is yet another affordable nursing bra large-breasted mothers may consider. Of course, its pocket-friendly pricing does not in any way reduce the quality you derive from owning one of these.
Made from super soft and non-harmful fabrics, this nursing bra features a 4-way high stretch fabric that expands as your body changes during the period of pregnancy and post-partum.
Breastfeeding no longer has to be embarrassing and uncomfortable, the bra's one-handed access, hook and loop closure and adjustable straps make the game very easy to play.
This bra works perfectly well with most pumping accessories out there. You could even switch to hand-free pumping if you want. Other amazing features to watch out for include removable foam coverage, a wide-side mesh and inner nursing slings that prevent your breasts from spilling out.
Thanks to its smooth, seamless and wireless design, you could wear it to sleep if you prefer. This bra comes in a pack of three, and while you put on one while breastfeeding, you have two spares waiting to be used.
5. Gratlin Full Support Plus-Size Nursing Bra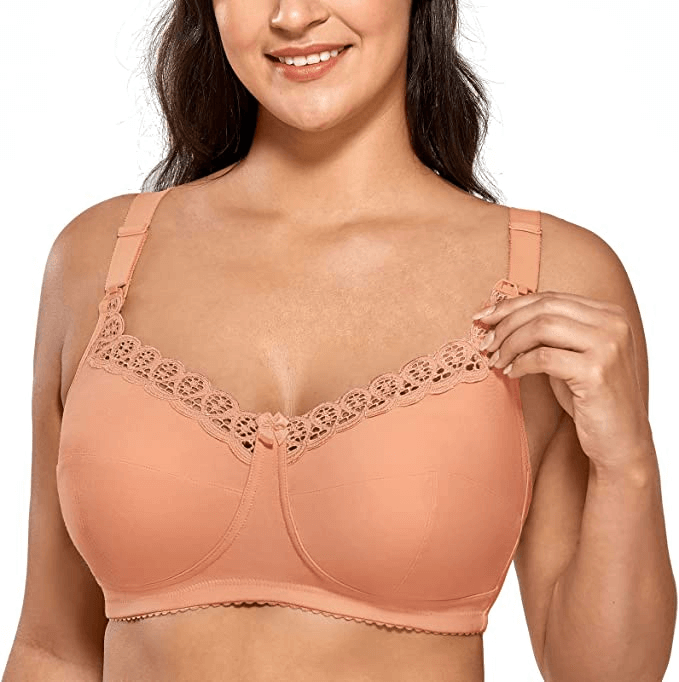 Key Features
Sizing: 34-48
Fabric Material: 90% Cotton and 10% Spandex
Closure: Pull-ON
Band type: Adjustable
Standout feature: Two-layered under cup for additional breast support
Washing Instruction: Hand washing & Line-dry
Pricing: $21
Gratlin women plus-size nursing Bra is perfectly designed for large-breasted mothers. Made from soft and expandable cotton fabrics, this nursing sports bra supports and provides the maximum comfort you ought to have.
Its Racerback design and wide elastic under band guarantee fuller breast support, While its front drop-down clips, provide better access to the breast when your baby wants to nurse. You don't have to worry about leakages. Its full-coverage pads ensure all leakages are trapped inside your nursing bra.
The icing on the cake would be the bra's two-layered under cups that provide extra support to your large breasts. Its cotton and wireless-free styling ensure your utmost comfort during usage.
Effects of Wearing An Ill-fitting Nursing bra as a Large-breasted Mother
The painful truth you should know as a large-breasted mother is that you're likely prone to blocked ducts (Mastitis) if you decide to wear a too-small or too-large nursing bra. But hey! We are not trying to scare you here, we just want you to decide if these problems are truly worth it. So here are the effects-
Painful skin Inflammation and Rashes
Backache and pains
Milk leakages
Sore nipples
Constricted breasts which lead to uneven shape
A low supply of breast milk that affects your baby's weight& development.
Swollen breast nodes
Shoulder pain
Sagging breasts
General discomfort
DIY: 5-Minutes Nursing bra Shopping Tricks for Large-breasted Mothers
Insert two fingers underneath the band to check for ease.
Ensure the wing support feels comfortable, firm and doesn't bite into your skin
Take a deep breath, exhale slowly and watch how your nursing bra expands and contracts to your breathing rhythm with ease
Make sure cups are double-layered and cover your breasts totally, without any form of discomfort.
Your bra should not draw your shoulders down. Your posture should be upright with your shoulders drawn back slightly.
No component of your bra must leave red and painful imprints on your body
Components to Watch out for When Selecting a Nursing Bra As A Large-Breasted Mother
In choosing the perfect fit for a nursing bra, you might need to watch out for the following components
Size
You don't want to go for a large nursing bra that gives an awkward shape or one that is too small and causes bruises on the skin surrounding your boobs.
The more reason why you need to go for sizes that fit into your boob's measurement.
To determine the size of your boobs, first, make sure your boobs are as natural as possible. Next, measure directly under your boobs i.e regions surrounding your rib cage. When you approximate this number to a whole and even number, you derive your band size.
To get your bust size, measure areas where your boobs are the fullest, and ensure it is parallel to your bra band. To get the right cup size, subtract your band size from your bust size.
Mind you, for every inch subtracted, you derive one cup size. A difference of 2-inches equals a B-cup, 3-inches equals a C-cup and so on.
Comfort
Before anything else, your nursing sports bra must provide you with maximum comfort. Go for bras with breathable, expandable and lightweight materials that permit the flow of air.
Support & Access
Your nursing sports bra should provide easy one-hand access to nurse your baby whenever the need arises. In this regard, we suggest you go for nursing bras with one-hand access and drop-down clips.
Foam Cup vs Removable Cup
A lot of nursing mothers are usually caught between the choice of a foam cup or a removable cup. Undoubtedly, they are both great choices to go for in selecting a nursing sports bra.
However, a foam cup looks better on someone with rounder-shaped boobs. Your breast is better covered in this kind of nursing sports bra. On the other hand, someone with flat and wider-shaped boobs should go for a removable cup as it guarantees better coverage.
Adjustable straps/ bra extenders
Getting a non-adjustable bra strap is a nightmare for a large-breasted mother.
Not only would straps bite into your skin causing warts and bruises to form around affected areas, but you're also more likely to have your shoulders drooped. The more reasons why you should get adjustable bra straps that can be altered by you, as you deem fit.
Go for wireless options
You should go for wireless choices when it comes to selecting a nursing bra for large breasts. This prevents unnecessary discomfort throughout the day.
Fabrics
Select Nursing bras with durable, expandable and buttery-soft materials/ Fabrics. Going for an adhesive option would cause one major adverse effect, making your sensitive nipples sore than they ought to be
Drop-down Cups
Select a nursing bra cup that totally covers your breast without those girls peeking from any side. When the need arises, a drop-down cup provides easy access to your breast.
Nursing Bras shouldn't come with Underwires
Nursing bras without underwires are a lifesaver. They help to protect your milk ducts from extra pressure. Go for the option that has knitted panels in place of an under-wire.
Go for a Nursing Bra with the option of pump flange openings
Perhaps, you may be considering using a breast pump in your breastfeeding journey, but getting a nursing bra with a pump flange opening would be the best option to go for.
Tips On Taking Care Of Your Nursing Sports Bra (For Durability)
Always wash your nursing bras as soon as possible especially if you sweat a lot. Doing this eliminates odours and bacterial build-ups.
Hand-washing of nursing bras guarantees durability than machine-washing. However, you should line-dry and avoid the use of an air dryer.
Do not bleach products.
Replace as soon as you start to notice wear and tears
Always rotate between nursing bras
Final Thoughts
A nursing bra is a must-have for mothers with large breasts. However, during purchase, you must ensure your choice is in line with the components listed above. We recommend you start wearing nursing bras during pregnancy since your breast is most likely going to increase by a cup size or two.
Besides, we encourage you to start wearing nursing bras during pregnancy so that they would expand along with your growing body. Go for nursing bras with expandable fabrics, wireless design and a buttery-soft feel. 
In this regard, we choose the Parfait Leila Nursing Bra as our overall winner. It meets all the requirements given by lactation experts regarding Nursing bras for large-breasted mothers.