Many families consider a trip to Disney World to be their ideal getaway, but there is one truth about the place: you have to walk a lot, thus the need for the best stroller.
However, if you have more than one child, getting the best double stroller for your trip to Disney World would be a fantastic thought!
Sadly, not all double strollers are a choice because every family is unique and Disney has policies on which strollers are permitted and which are not.
You also have a lot to think about, including things like size, price, weight, and others.
When returning to the hotel room or between walks to new rides, your child needs a place to unwind. The Disney theme parks will be much easier to navigate if you have a stroller for your children.
To make the process of choosing the Best strollers for Disney Trips much simpler, we'll be taking you through the best double strollers for Disney World in this piece.
Best Overall Double Stroller: Baby Jogger City Mini GT2 Double Stroller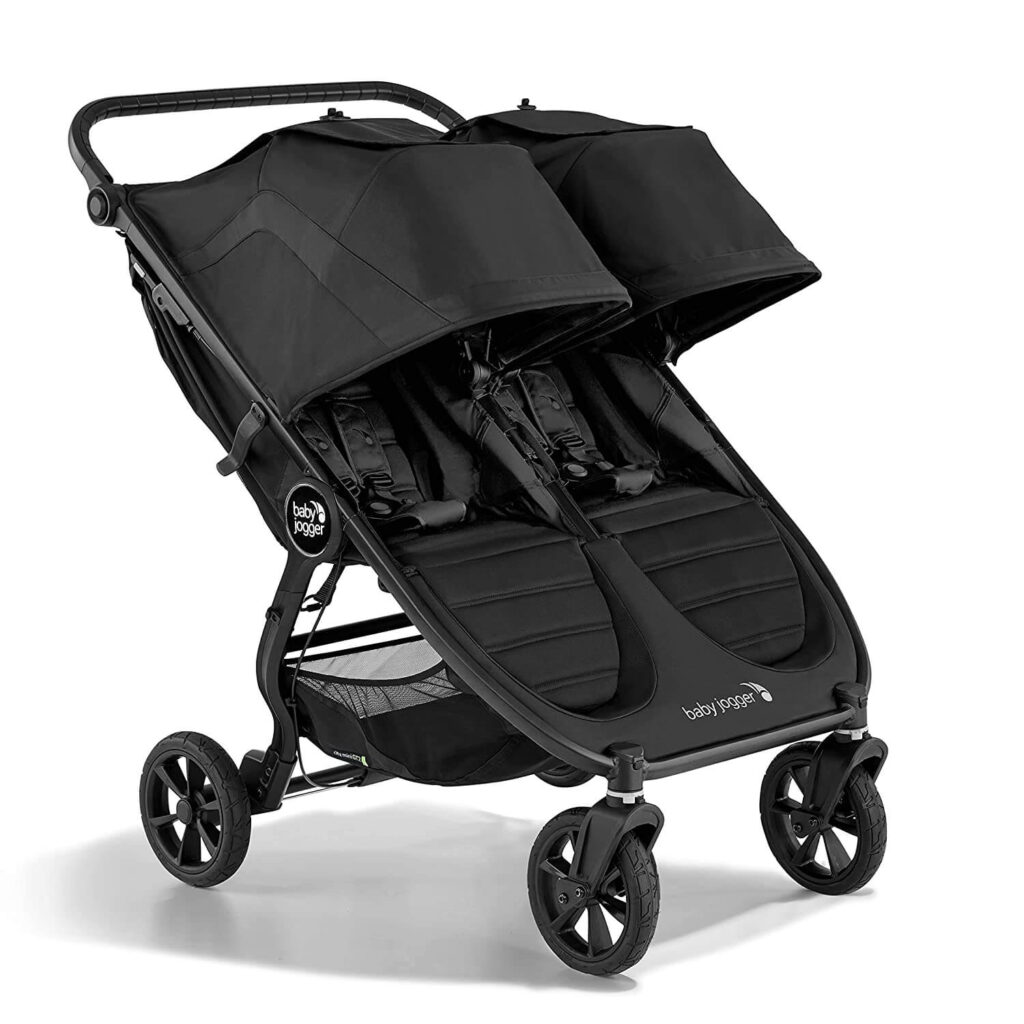 If by chance you've ever had to borrow any stroller at any firm close to Disney, chances are that you must have come across tons of Baby Jogger strollers in their yards.
Many people would be perplexed as to why many of these companies assemble hordes of them in their yards.
We're here to explain why, exactly. It's because they just do their jobs! They excel at that as well.
Disney might be the ideal setting for the Baby Jogger City Mini GT2 Double stroller. It is quite maneuverable and has excellent rubber tires that can handle any surface.
This double stroller is quite simple to fold and is nicely small while yet standing on its own.
Additionally, it has a wide weight range that works for newborns up to 22 kg, so your family will be able to use it on several Disney excursions.
Moreover, each seat has a separate adjustment. This implies that for each child's comfort, the leg rests, canopies, and recline angles can be adjusted. It also boasts good agility and fantastic suspension.
Also, the infant car seat adapters included with this stroller make it simple to convert into a travel system, and its innovative one-hand compact fold and auto-lock are perfect for circumstances where you need to rapidly disassemble your stroller.
Furthermore, the roomy under-seat storage basket, which is accessible from both the front and the rear, may be large enough to hold all of your belongings.
The City Mini 2's smooth pushing — a prerequisite for any Disney stroller — is yet another outstanding feature.
In addition, the twin front-wheel suspension's increased shock absorption provides parents and kids with the smoothest ride imaginable.
Pros
It's a fantastic double stroller for traveling thanks to the rubber tires and excellent suspension.
The brake is actuated by hand for added security
The seat reclines to a relatively flat position.
The handlebar may be adjusted to fit varied heights of parents
Each seat has its own full coverage canopy.
Cons
Every stroller accessory is offered individually.
For a nappy carrier, the storage basket is somewhat small.
Best Value: Joovy Scooter X2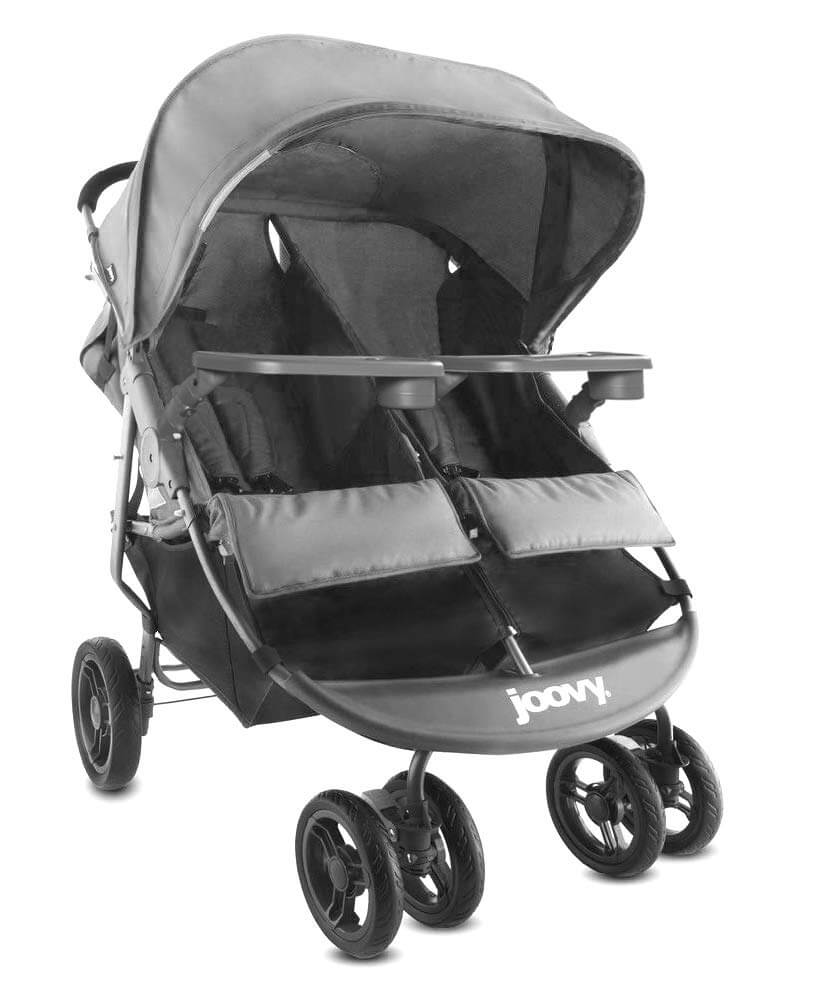 The Joovy Scooter X2 is a fantastic option if you want a side-by-side stroller that won't cost you an arm and a leg. Because of its excellent suspension system, mobility is made much simpler.
This stroller contains crucial storage space for your small belongings on the back of each seat and a sizable storage basket behind the seat.
Also, for larger kids to store their food and water bottles, each stroller seat independently reclines and features mesh side pockets.
Although it has a single enormous sun shade that completely covers the entire surface, it would be wonderful if there were individual shades for each seat.
Even better, there is a tiny peek-a-boo glass on the top of the sunshade so you can watch your children while it is open.
Unfortunately, the Joovy Scooter X2 is not the double stroller for you if you're searching for an all-terrain model, as it won't be able to navigate over rugged or dense terrain.
Pros
Excellent storage space
Independently reclines
Features a great peek-a-boo glass
Great for Disney walks
Con
Difficult to use on rough terrains.
Budget Option: Baby Trend Sit-n-Stand Ultra Stroller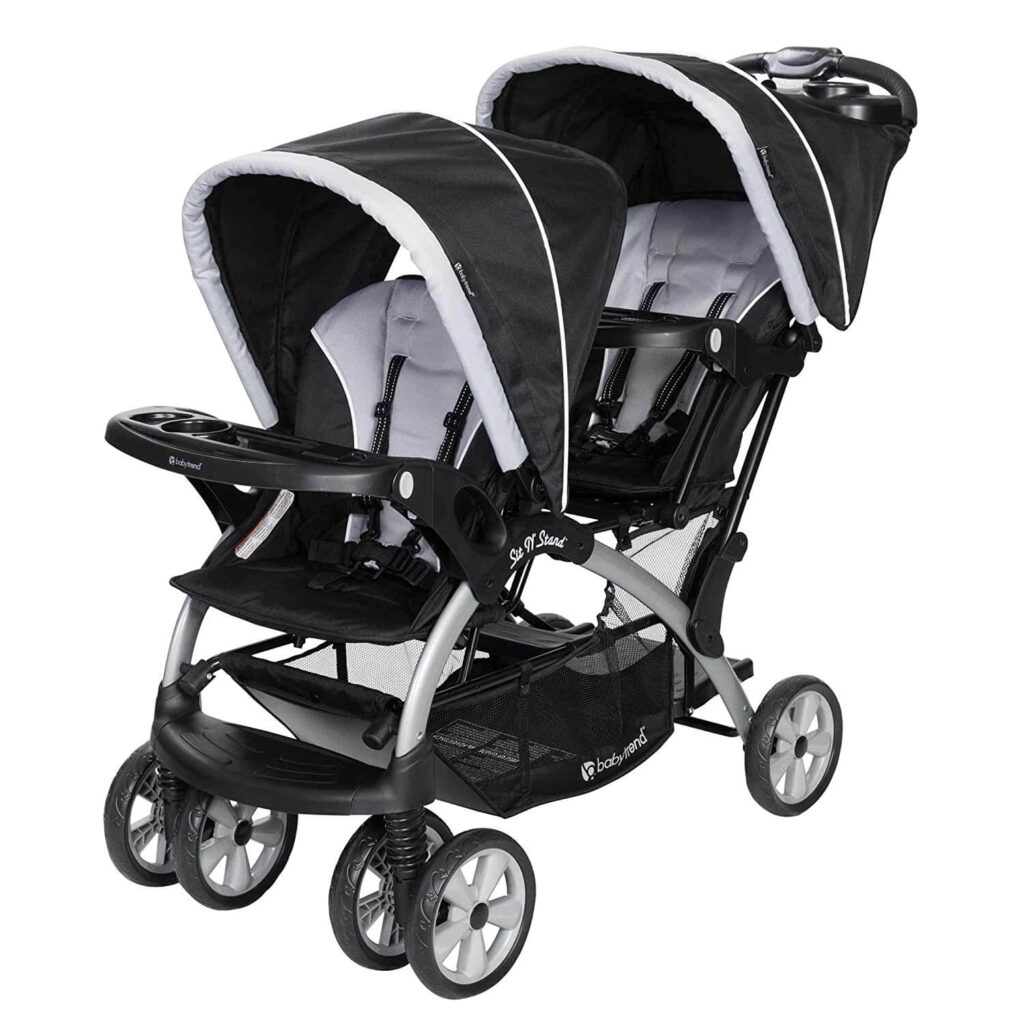 For several years, Baby Trend has served as the top Sit n Stand Stroller in the marketplace. It offers plenty of storage, a reasonable price, extra cup holders, and a parent console, which we find attractive!
There is a bench seat for your older children in the back, complete with cup holders, whereas the front seat is considerably reclining.
These dual strollers are simple to handle through crowds, and because of their modest width, you will undoubtedly avoid Disney World's size restrictions.
Again, up to two infant car seats can be placed in this stroller at once, although, car seats are offered separately.
Also, it can support 100 pounds in total, or 50 pounds for each seat.
Additionally, it is a very adaptable stroller that offers a variety of double-seat or sit-and-stand configurations.
Pros
Very economical
Great storage space
Multi-functional
Cons
Tiny front canopy
Does not feature a back canopy
Sunshade accessories are individually purchased
Alternative Budget Option: Kolkraft Cloud Plus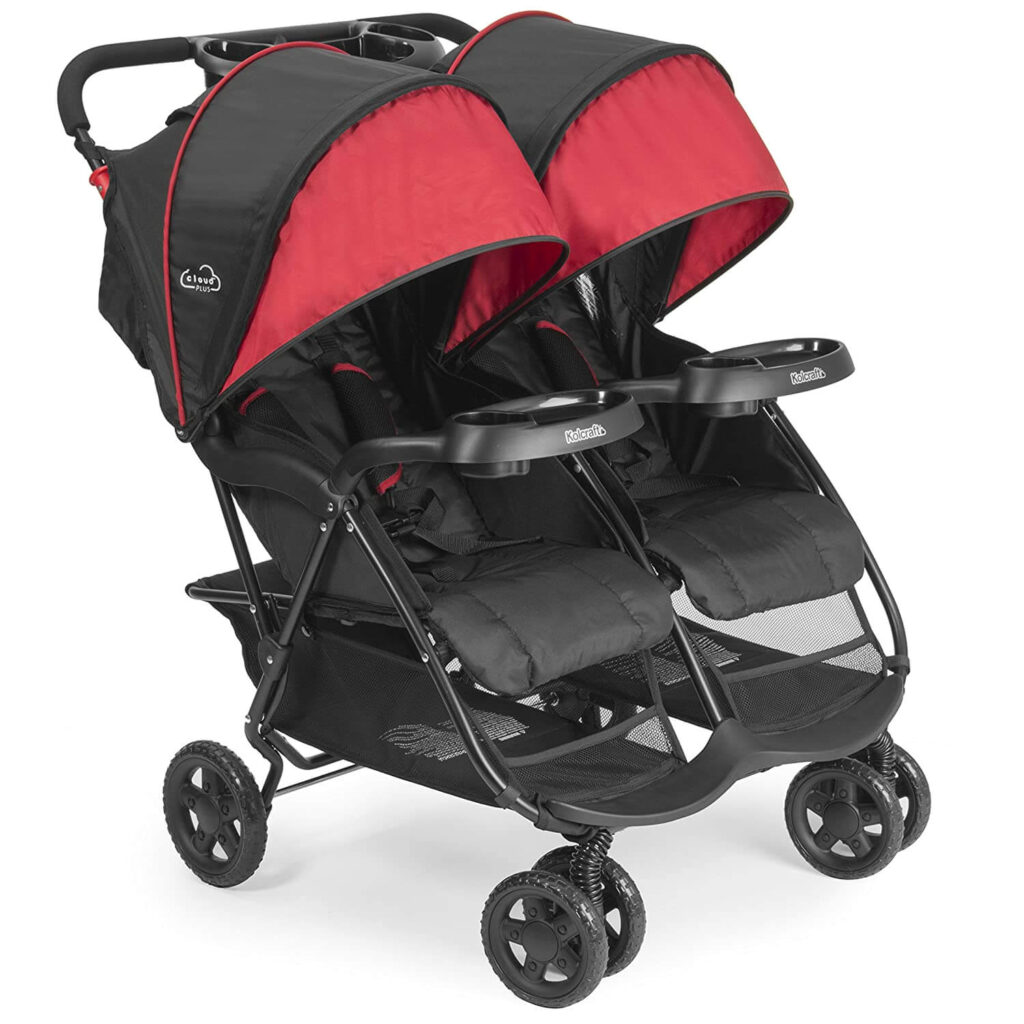 The second best budget stroller to bring to Disney Parks is definitely the Kolcraft Cloud Plus.
It has nearly all the features you could want in a double pram without going overboard on your spending.
In addition to a sizable basket and parent trays with cup holders for the parent and the youngster, you also receive a sizable sunshine covering with full shade.
The stroller folds very flat and the folding mechanism is simple to use. Additionally, it stands alone when folded.
Furthermore, this stroller has a 50-pound weight capacity. Although the seat can't recline all the way, there are still options to make it comfortable for your child.
As well, your child will be continuously protected from dangerous UV rays by the three-tier canopy. You can keep an eye on your child from inside the canopy thanks to an integrated window.
And because it is one of the best single strollers for Disney, pushing it won't ever be a challenge. You can comfortably drive this stroller on a variety of terrain owing to its shock-absorbing wheels.
Pros
Exceptionally light
When folded, stands independently
Canopy provides complete protection against harmful UV
Easily accessible on any budget
Cons
It requires a little more manual labor to fold.
Difficult to reposition with strap adjusted
Alternative Option: Bob Gear Revolution Flex 3.0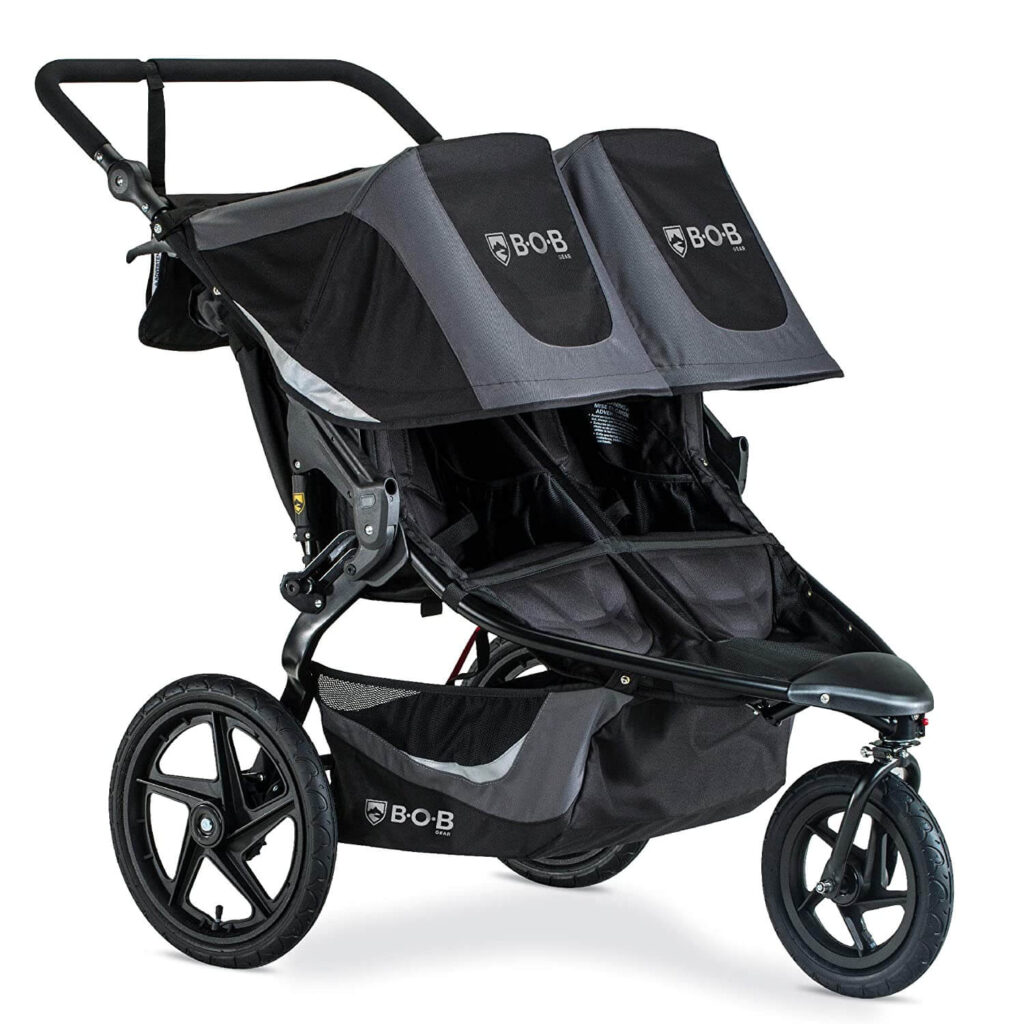 The BOB Gear Revolution Flex 3.0 Jogging Stroller would likely be our alternative option for the finest double stroller to bring to Disney World.
It may not be the most practical double stroller for a monorail because it is a little bigger than the others we have examined.
But considering all of the other characteristics it offers, it is one of the finest strollers for Disney World to use inside the resort.
This stroller's single front wheel offers superior agility when compared to other strollers with four wheels in total.
Furthermore, while jogging, the front wheel can be fully locked or rotated. In order to prevent the stroller from straying from you as you run, it also comes with a wrist anchor strap.
In addition to a magnetic window that closes on top so you can watch your child while you push, there is a UPF 50 water-resistant umbrella to keep your youngster safe.
Also, your youngster can journey in the utmost luxury courtesy of the Flex's ultra-padded compression seat with endless reclining choices.
Pros
Adjustable handlebar angle
massive, fully-covered sun canopy
Improved mobility due to a single front swivel wheel
Cons
Now that we've given you a heads-up on the finest double strollers to bring on your upcoming Disney vacation, here are some suggestions you might want to take into account when packing your suitcases:
Tips For Choosing The Best Double Stroller For Disney
Foldability
Having a stroller that is simple to fold down is important if you intend to use Disney transportation, such as buses. The stroller must be folded down since children cannot stay in it while riding the bus.
Choose one that is simple to fold, then practice doing so in a calm setting.
Reclining Seats
You should check that each seat in a double stroller reclines independently if you're using one. Because of this, every kid can relax when they choose.
Sun Cover
Any Disney park worldwide has the potential to be extremely sunny. We advise selecting a stroller with substantial sunscreen if you are taking a baby or toddler to Disney with you, particularly during periods when they are napping.
Rain Cover
Particularly in Paris, Tokyo, and Disney World, the rain storms can come in heavy and quickly. It is simple to enter a park amusement line in good weather only to exit it with your stroller soaking after a rainstorm. So, when visiting parks, it's crucial to remember your raincoat.
Storage Capacity
You'll probably need to pack a lot of items to go to the park. You'll need to have the option of occasionally unloading your backpack and stowing it safely inside the basket somewhere under the Disney World stroller.
Safety Considerations
Important safety measures need to be present on all strollers. Wheel brakes, safety harnesses, and even sun coverings to block UV radiation are some of them. The more safety features there are, the better, as you'll be outside in the Disney parks all day.
Best Double Strollers For Disney: Frequently Asked Questions
Q. Is a stroller that important for a Disney trip?
A. You will likely need access to a stroller at some time during your Disney vacation, especially if you have a child who is six years old or less. Even your seven or eight-year-old might start requesting stroller time when the walk gets intense.
Q. I've got my personal stroller. Can I bring it to Disney?
A. Absolutely! You can bring your own stroller to Disney, provided it complies with their stroller guidelines. If you're driving to Disney, it's usually a good idea to carry your own stroller. However, a lot of travelers just rent strollers there.
Q. Is it advisable to rent a stroller at Disney?
A. Although they are not free, strollers can be rented at Disney.
The daily cost for a single stroller is $15, or $13 for longer stays. The cost to hire a double stroller is $31 for one day or $27 for several days.
Also, it's vital to keep in mind that all hired Disney strollers cannot be taken outside of the parks and Disney Springs and that a $100 credit card deposit is required for each stroller rental.
But if these are out of your price range, we'll suggest that you phone one of the many stroller rental businesses that you'll find all over Disney.
Disney Rules For Strollers
To reduce congestion, Disney imposed stricter stroller laws and regulations in 2019, however, this means you must always make sure your stroller complies with these requirements. You don't want to be forced to leave your stroller at the entrance gates.
Here's a quick glance at the guidelines:
Disney Pram Specifications
Maximum width and length restrictions for strollers are 31 inches and 52 inches, respectively. You must guarantee that your double stroller fits these requirements because they are larger.
However, there are printed boxes on the ground to check whether your stroller complies with the rules as you enter Disney.
The good news is that most single and double strollers available fit these measurements, so do not fret excessively.
Stroller Wagons Aren't Permitted
Sadly, conventional pull-wagons are not allowed, which is bad news for parents of multiple children.
For parents of older children who loved the adaptability of a wagon, this is a major letdown.
Since the Keenz stroller wagons are pushed like strollers, parents have been utilizing them to circumvent the rule that Disney has had in place for a time.
Disney, on the other hand, figured it out, therefore tightened the rule: no wagons.
Best Double Strollers For Disney: Our Best Pick!
When you consider all the important factors, such as stroller design, wheel type, safety belts, as well as your own preferences for features like handlebars and seat reclining to suit you and your kid, selecting the finest stroller for Disney is made simpler.
Our best pick, though, is the Baby Jogger City Mini 2, as it offers enough sun protection in addition to having all the necessary features, such as air-filled tires, suspension, a wheel locking system, and storage! The foldability is the best feature, which we think is great and should be for you too.

However, the other highlighted strollers would ideally provide to you an ideal function of simplicity and convenience on your subsequent vacation to Disney.
Start your packing and shopping right now!