Getting the Best Strollers for Snow is no doubt one of the treasured acquisition useful for tackling the snowy and winter shift.
As a mother, it could be somewhat difficult to bundle everyone up on chilly winter days and also pack the kids. Even worse, you might not even have thought about the restrictions of the stroller you're about to purchase.
During winter, certain strollers with smaller wheels and lower-to-the-ground suspension are usually incredibly tough through muck and snow.
However, if you're thinking of getting a second stroller for use in the winter and other outdoor activities, here are the top choices to take into account.
Short On Time? Here's Our Best Overall Pick:
The Bob Revolution Flex 3.0 tops our list as the best overall stroller for snow and our reasons for this pick are highlighted in the rest of this piece.
Best Overall Stroller For Snow: Bob Revolution Flex 3.0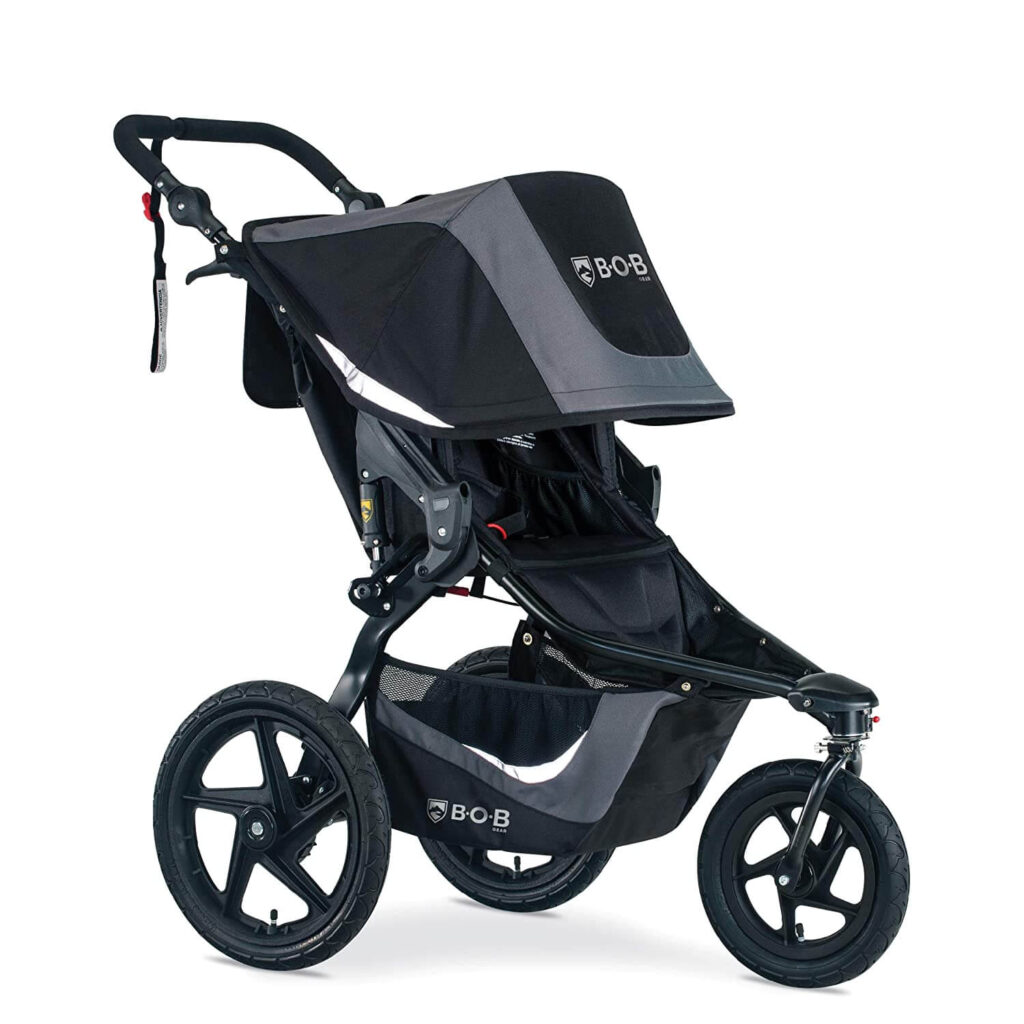 Popular for its impressive movement and high efficiency during outdoor sporting activities, the Bob Revolution Flex 3.0 is an optimal choice for parents on the lookout for the best stroller for snow.
The BOB Gear Revolution Flex 3.0 Jogging Stroller is highly regarded as not only the best 3-wheel stroller option but also as the best stroller for snow because of its many enticing features.
It boasts air-filled tires and a suspension system to make riding in hilly areas comfier. Thus, offering a relaxing ride for your little one.
Also, this pram can be comfortably pushed by a variety of caregivers thanks to the handlebar's adjustability.
Additionally, there is a pouch for your phone's security on the handlebar so you never have to worry about misplacing your valuables while exploring outside with your little ones.
Moreover, the front wheel of this stroller can be locked or totally turned while carrying out your daily activities in the snow.
And to prevent the stroller from veering away from you while you're running, there is also a wrist anchor strap available.
Furthermore, the canopy of the stroller has a magnetic window that closes so you can monitor your baby whilst you push.
Also, a UPF 50 water-resistant umbrella is attached to this stroller to ensure that your child feels cozy all through the time that you're outdoors.
Since the straps may be modified without having to rethread them, switching to a 5-point harness as your child grows is straightforward.
Plus, the seat's padding is superb, and it may be either entirely erect or virtually flat on the ground, depending on your preferences.
For us, we see the Bob Revolution Flex 3.0 as an incredibly versatile and multifunctional stroller any parent should look forward to buying. And the best part is, it is one of the Best Strollers for Disney Trip.
So, we won't judge you if this stroller is already making its way to your carts!
However, there are some downsides attached to it.
The absence of a food tray and cupholders for you or your child in this stroller is a significant drawback.
Even though items can be bought separately, it is better when they are combined together.
Pros
Any terrain may be traveled through in comfort due to the air-filled tires and suspension system.
A cell phone pocket at the handlebars, an extra-large luggage basket, and six storage pockets are just a few of the many extra storage options.
The child's seat has an infinite recline that can be changed from sitting upright to reclining flat. It is an ultra-padded compression seat.
This travel system is compatible with the vast majority of top car seat manufacturers when used with a BOB Gear baby car seat converter.
360-degree front wheel locking
Cons
Very pricey
Bulky
Some parents complained it is difficult to fold
Does not contain a cup holder and food tray ( items may have to be bought separately).
Best Value: Joovy Zoom 360 Ultralight Jogging Stroller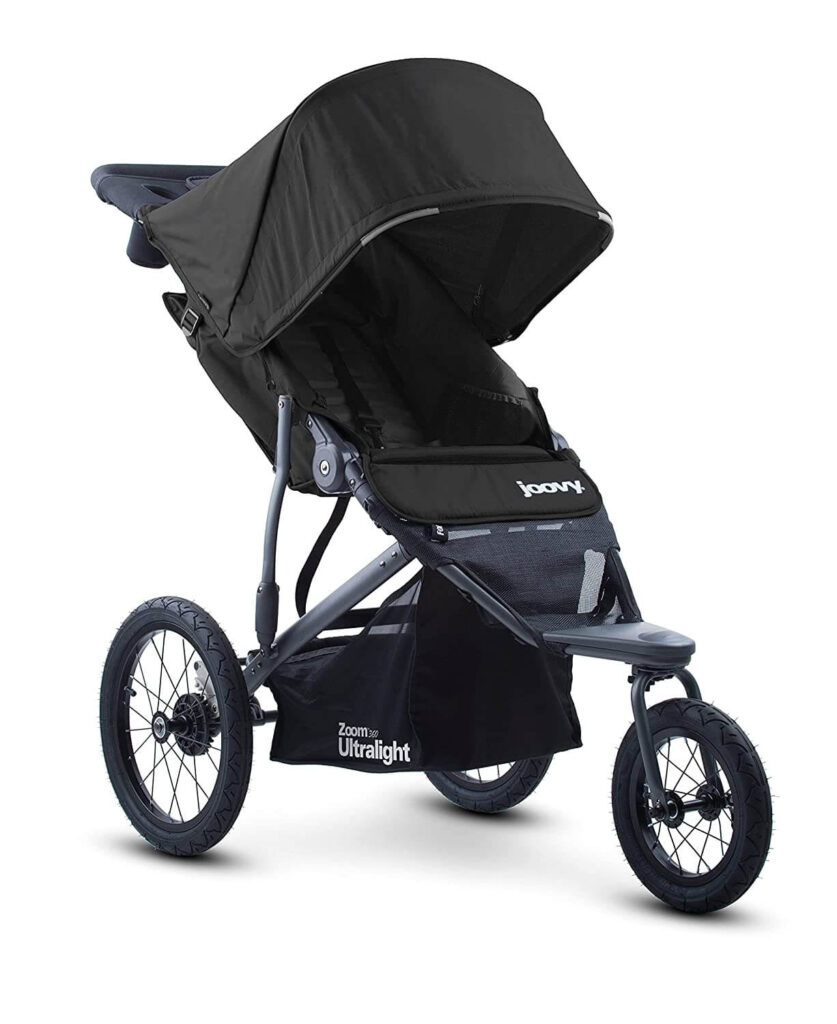 For those searching for a little stroller that can manage various terrains, the Joovy Zoom 360 stroller is a wonderful choice.
With a 12-inch front wheel and 16-inch rear wheels, the Joovy Zoom 360 Ultralight is a 3-wheel stroller that effortlessly lets you push your baby during the snow.
Your child's journey will be cushioned and comfy because of the suspension of the back wheels and the lockable front-wheel swivel.
Also, this stroller's seat has multiple degrees of adjustment and can accommodate infants as young as three months old and up to 75 pounds.
This stroller as well features a fixed leg rest that makes it easier for your baby's premium relaxation.
In addition, the Joovy Zoom 360 has a sizable canopy with a vinyl window and a parent console as standard equipment.
And for storing your child's food or small toys, this stroller's seat has storage pockets on both sides to enable you to ride your baby even more smoother.
Perhaps, you're wondering if this stroller fits well into a travel system…
Well, truth is that you may have to buy an adapter so as to infuse this stroller with your car seat. But in the real sense, this stroller will work with several car seats, including those from Britax, Chicco, and Graco.
Pros
Reasonably small when folded
Has a parent dashboard and a tire pump
Seat pockets made of mesh that are simple to adjust
5-point safety belt
Comfortable due to its rear-wheel suspension.
Affordable
Cons
The storage container is difficult to reach.
There is no adjustable height for the handlebars or the leg rest.
Unsuitable for infants
Cannot stand independently
Best Choice: Graco FastAction Fold Jogging Stroller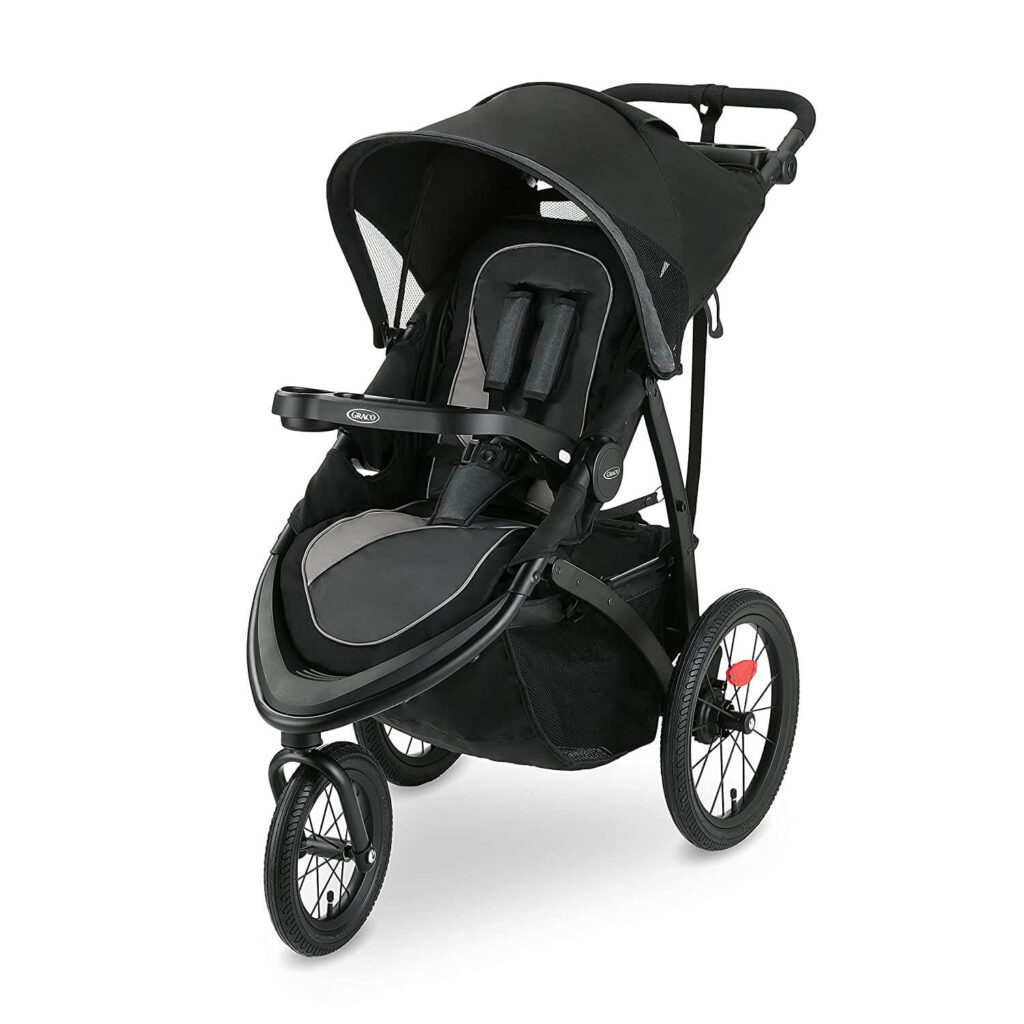 Graco was established more than 60 years ago. So, anytime we come across a business with that much experience, we always pay attention and take a closer look.
The Graco FastAction Fold Jogger is a special stroller with an eye-catching and straightforward fold. Mothers will appreciate the ease with which this stroller may be folded by pulling a loop in the seat.
This stroller comes with a seat for your car as well as a Graco SnugRide 35 infant car seat. It also has a back wheel seat that can accommodate babies up to 32 inches in length and 4 to 35 pounds in weight.
Also, this stroller packs a one-step function by adopting the use of an audio signal to notify you the Graco SnugRide infant car seat is locked in whenever you attempt to attach it to the stroller.
Asides from this, the tires of the stroller are filled with air. Another option is that the front wheel of this stroller locks in tightly. As well, this stroller has a maximum weight capacity of 50 pounds.
However, you shouldn't exercise while pushing the stroller with the car seat in. It is prohibited by the operating manual.
In addition, it is possible to lightly wash and line dry the removable seat cushion. The seat's angle of recline is also adjustable.
Furthermore, there is a food tray for the children as well as cupholders for the adults and a storage area can be found underneath the seat.
Likewise, the umbrella is a suitable size, offers ventilation, and may shield your child from the sun's harsh rays.
Pros
For a safe ride on diverse surfaces, a locking front wheel and air-filled rubber tires are necessary.
On the parent's tray, there are cup holders and a smartphone cradle.
The child's tray pivots and separates to facilitate access and cleaning.
It is easy to transition from running to walking storage space.
A straightforward folding stroller with a sizable under-basket storage compartment and an automated storage lock
Can stand independently
Cons
Cannot be adjusted to the parent's height
Non-compatibility of cup holders and food trays with modern sizes
Best Alternative Choice: Thule Urban Glide 2 Jogging Stroller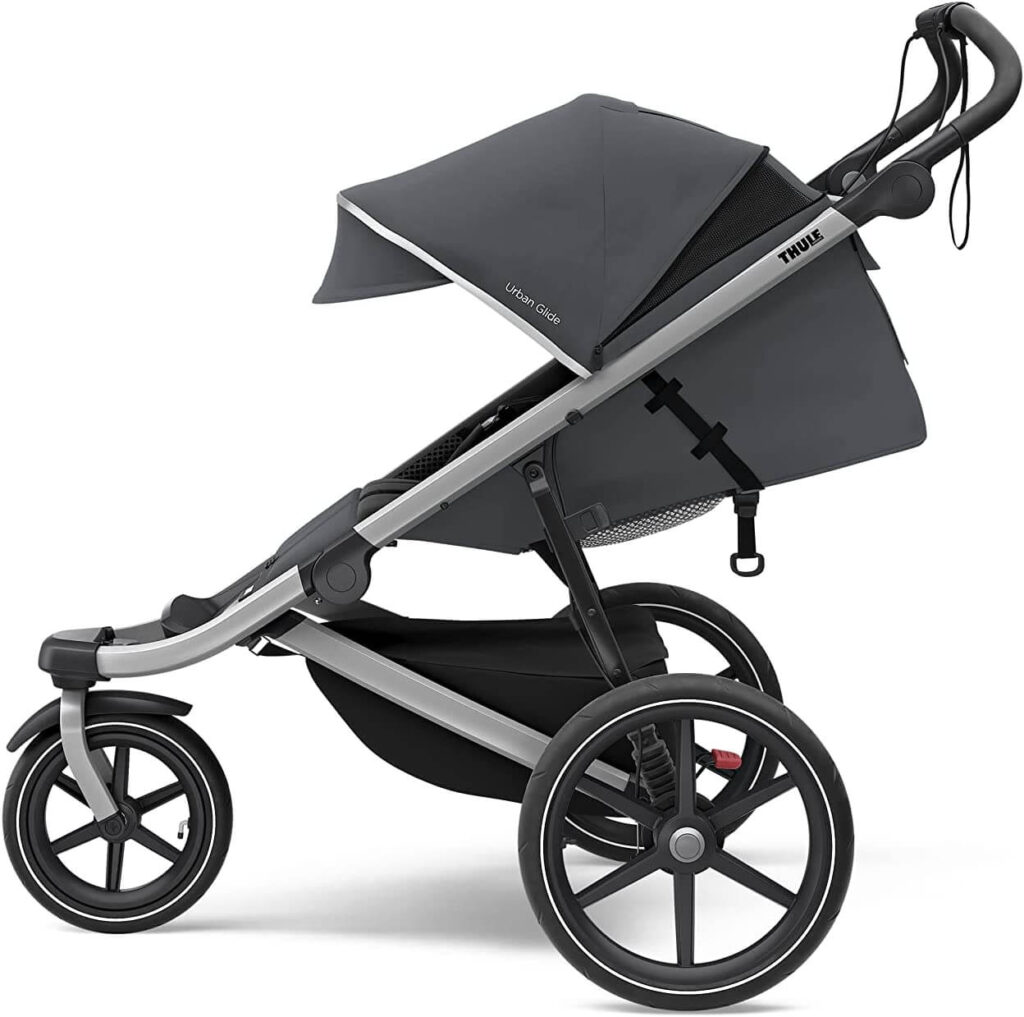 This stroller is ideal for snowy roads if you're seeking a high-quality option and don't mind paying a premium price.
The stroller's large 16-inch back wheels and all-wheel suspension allow you and your kid to travel comfortably and without fuss.
Also, the Thule Urban Stroller folds compactly and would go well on any kind of terrain.
Additionally, the seat's adjustable 5-point harness may be adjusted with one hand.
And, since the front wheel swivel locks into position, it works perfectly well while jogging or in the snow. This stroller has 16-inch rear wheels with integrated suspension that adds to the child's comfort.
This stroller has an amazing brake mechanism. There are slowdown handbrakes as well as one-step brakes with a broad pedal. You must turn it forward to use it, which will slow down the stroller.
Furthermore, the Thule Urban Glide boasts a mesh pocket on the rear of the seat and a sizable storage bin with a zip to keep your valuables secure.
With a big canopy and a peek-a-boo window that can be fixed in place using the magnetic closure, the handlebar is also adjustable. You won't have to worry about waking up your infant because its magnetic closures are silent.
Pros
Wheel suspension can handle a variety of surfaces.
A sizable canopy with mesh side windows and a window with a magnetic latch.
Additional mesh pocket and a storage basket with a zipper
Compact and simple to fold
Extraordinary brake system
Cons
Unsafe for babies without a car seat
On the pricey end
Second Alternative Choice: Baby Jogger City Mini GT2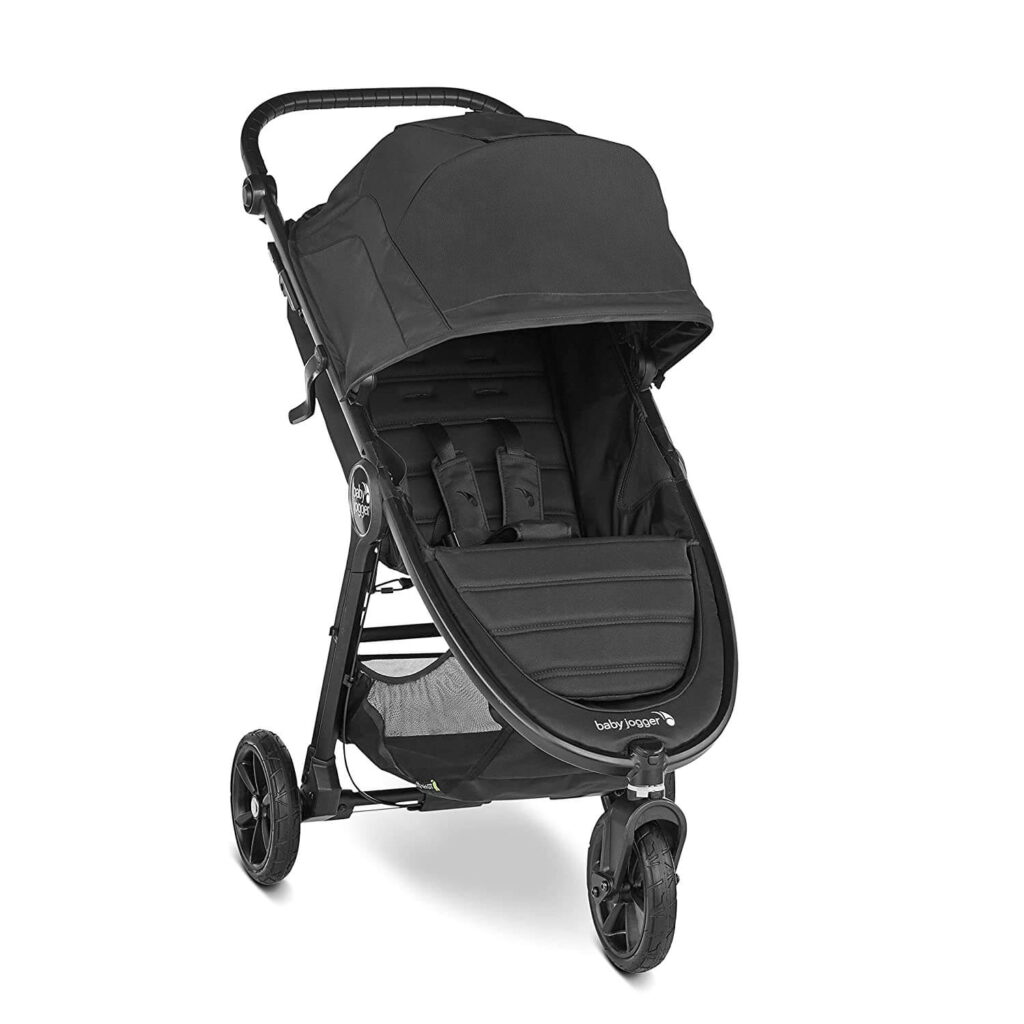 The Baby Jogger City Mini GT2 has been known worldwide for its effectiveness and value-added functionalities since its inception many years ago.
This stroller features superb rubber tires that are capable of handling any surface and is highly agile.
Also, this double stroller folds up easily and compactly while yet being able to stand by itself.
Additionally, it has a broad weight range that accommodates infants to 22 kg, so your family can use it on a variety of snowy outings.
Furthermore, there is a unique adjustment for every seat. This indicates that the leg rests, canopies, and recline angles can all be changed to suit the comfort of each child. It also has excellent agility and suspension.
Plus, the infant car seat adapters that come with this stroller make it simple to convert into a travel system.
Finally, its innovative one-hand compact fold and auto-lock are ideal for situations where you need to quickly dismantle your stroller.
Likewise, the spacious under-seat storage basket, which is reachable from the front and the back, can be big enough to accommodate all of your possessions.
Meanwhile, the greater shock absorption of the double front-wheel suspension provides children and parents with the nicest ride attainable.
Pros
Rubber tires and superior suspension make it a great double stroller for travel.
For increased security, the brake is operated by hand.
The back of the seat can recline to an almost flat position.
The handlebar can be modified to fit parents of different heights.
Each seat has a full-coverage canopy of its own.
Cons
Each stroller accessory is available on its own.
The storage container is a little on the tiny side for a diaper carrier.
We've carried you through the best strollers for snow you can possibly get out there. Now is the time to reveal to you some factors to consider before adding any of these strollers to your carts
Factors To Consider While Choosing The Best Stroller For Snow
Design
Although frequent usage of strollers has been demonstrated to negatively impact kids' regular activity, it is crucial for parents to closely supervise their children as they use strollers during the first few years of their life, from newborn to toddler.
When selecting a stroller for big kids, be certain that the frame is sturdy enough to support your child's weight and that the design is secure enough to keep your child in place while you engage in outside activities.
There shouldn't be any edges on the stroller that are rough or pointy. The stroller's seat must be padded for the sake of your child's comfort. It must also have a substantial cover to shield you and your child from the snow.
Tires And Wheel Mechanism
Being forced to push a stroller with little plastic wheels while you're outside in the snow is definitely not something you want to do. In fact, we'd advise you to not.
On rocky terrain, smaller wheels are challenging to control. You will find it simpler to operate the stroller if the wheels are larger.
Generally speaking, pick a stroller with wheels that are at least 9 inches wide.
A 3-wheel stroller with tires filled with air made of rubber is perfect. For you and your infant, a trip in air-filled tires is significantly smoother.
Additionally, you should confirm that the front wheel swivel may be locked. This makes it much easier to push the stroller over snow-covered pavements. It keeps it from getting caught in the snow as well.
Suspension
Suspension becomes essential while moving a stroller on any uneven ground, such as mud, snow, or sand.
Choose a stroller that has a great suspension system that can withstand shock. To make your child as relaxed as possible, the proper suspension is crucial.
The child would experience a very rough ride in a stroller with a faulty suspension system, and you would find it more challenging to push.
Car Seat Compatibility
Strollers with three wheels and car seat attachments are the greatest travel solutions. You might want to look for a stroller option that is compatible with your child's car seat because of this.
However, the biggest disadvantage is that, when compared to buying a regular stroller, they are frequently more expensive.
Storage Space
In order to bring everything you might need when traveling with a young child, it's essential to have enough space.
When shopping for the best stroller for snow, consider whether you value having storage space at the handlebars in addition to the storage basket that is often found behind the seat of strollers.
Best Strollers For Snow: Our Final Thought
On chilly days, creating lasting experiences with your priceless children doesn't have to be difficult. You can spend numerous days outdoors in the snow if you have a good, secure stroller.
We believe that the BOB Gear Revolution Flex 3.0 Jogging Stroller deserves to be at the top of our list after evaluating our best choices.
This stroller has a clever suspension mechanism that keeps you and your child comfortable while being simple and easy to maneouver.
It has a number of useful features, including a sizable canopy, an adjustable handlebar, a sizable storage basket, and pockets.
If this stroller is beyond your financial range, the Joovy Zoom 360 Ultralight Jogging Stroller or just any other stroller on this list would be a great substitute.